Oil blowout threatens survival of Baghjan villagers in Tinsukia
The blowout which took place 96 hours ago, is yet to be fixed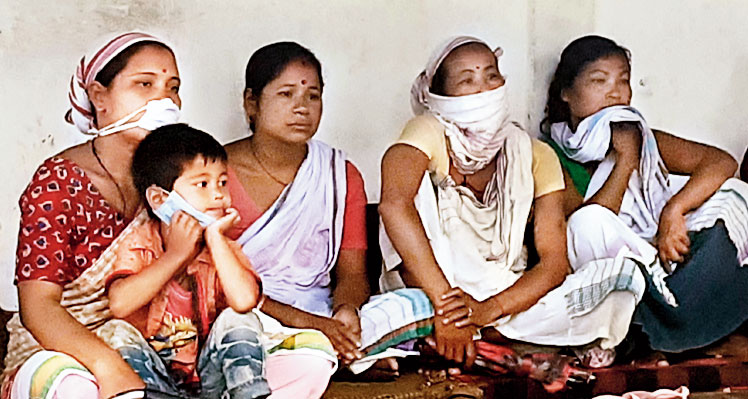 ---
---
Villagers of Baghjan, which was hit by an explosion in a nearby Oil India Limited well on Wednesday morning, on Saturday said their survival was at stake if chemicals continue to leak from the well into their lands.
The blowout (uncontrolled release of crude oil and/or natural gas from an oil or gas well), which took place 96 hours ago, is yet to be fixed.
Villagers said scary sound of gas emission was emanating from the oilfield. Roads, trees and agricultural fields were all caked with oil. Thousands have taken shelter at Baghjan Middle English School, 2km from the oil well. Many complained of depression, nausea, vomiting, giddiness, ear ache and respiratory issues.
The elderly said the village was thousands of years old and housed many indigenous Assamese communities. They said they had survived massive floods but had never thought of such man-made disaster. A villager said, "Nearly 800 families of the village are mostly dependent on agriculture, animal farming and fish mongering. After the blowout, oil is seeping into agricultural fields. Aquatic and domestic animals are dying and poisonous gas emissions are in the air. Our future appears bleak. We fear land will become infertile and water and air impure. What will happen to us and our children?"
All Tai Ahom Students' Union president Litul Buragohain said, "It is intolerable. We will not allow anyone to play with people's lives."
National Disaster Response Force, State Disaster Response Force and security personnel have been deployed in the area.
Deputy commissioner Bhaskar Pegu said, "The district administration has made arrangements in collaboration with OIL for distribution of essentials to the affected people at the school."
Baghjan Gaon Milanjyoti Yuva Hangha president Satyajit Moran said, "Baghjan and Dighaltarang villagers are going through a horrifying experience. Around 800 families are staying in a shelter home. The livelihood of poor farmers and fishermen is threatened. The nature, animals and birds, aquatic life in the Dibru and Dangari rivers, the Maguri Motapung Beel and the Dibru Saikhowa National Park are all threatened. Till safety is ensured, we will not allow exploration of oil. We demand a high-level probe."
A dolphin was found dead in the Dibru on Friday.
Chief minister Sarbananda Sonowal discussed the situation with petroleum & natural gas minister Dharmendra Pradhan and OIL CMD Sushil Chandra Mishra and asked the latter to ensure that the leakage is stopped soon.
OIL spokesperson Tridiv Hazarika said, "We are in the process of carrying out the operations. Experts are here. A lot of arrangements needs to be made to control the spillage." Sources said Assam Pollution Board chairman Y. Suryanarayana and Mishra held a high-level meeting on Saturday. They are likely to visit the site on Sunday.
AASU general secretary Lurinjyoti Gogoi also visited Baghjan relief centre.