NRC plays out on global stage
The World Forum for Democracy was organised by the Council of Europe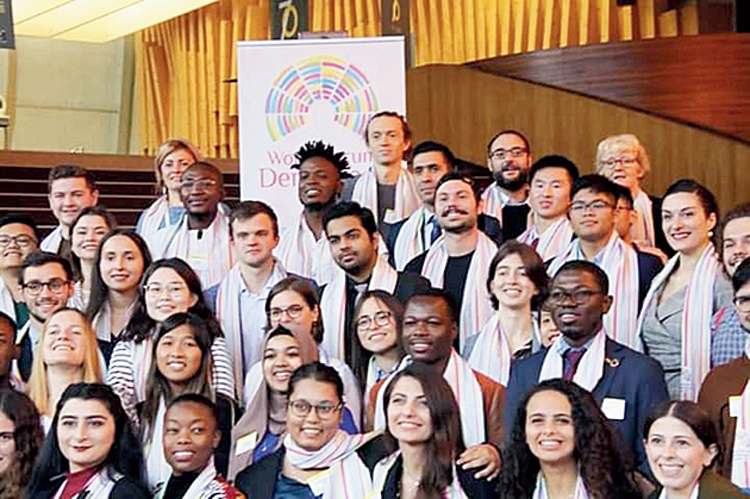 ---
|
Guwahati
|
Published 13.11.19, 06:35 PM
---
Raina Bhattacharya, a Guwahati-based independent theatre artiste, activist and essayist, who recently took part in the World Forum for Democracy, spoke about prominent issues of Assam such as the National Register of Citizens (NRC) and floods.
The Forum, organised by the Council of Europe, a leading human rights organisation of European Union, was attended by youth leaders from all over the world. It's theme this year, Is Democracy in Danger in the Information Age, was dedicated to democracy and information. The event was held from November 4 to 8 at Palais de l'Europe, the Council of Europe's principal building at Strasbourg, France.
During the informal training session, held on November 4 and 5 for youth leaders and their trainers (on the Forum's proceedings) to get acquainted with one another, Bhattacharya spoke about the NRC and how 1.9 million people had been left out of the NRC
Bhattacharya, who arrived here on Wednesday, told The Telegraph that during the session, which was attended by about 20 youth leaders, she outlined the effect of NRC on people and told them how once, while providing relief to flood victims, she found that people were more worried about saving their documents than their lives and property.
"The youth leaders were acquainted with NRC and showed a keen interest in the issue since I hail from the place where it was carried out. I suggested that they acquire an in-depth understanding of Assam and NRC and have a balanced view on the issue," she said.
"During the main formal session, held from November 6 to 8, I spoke about flood-related problems and freedom of expression in Assam and in the Northeast," she added.
The secretary-general of the Council of Europe, Marija Pejcinovic Buric, former Prime Minister of Italy Enrico Letta, Facebook's Southern Europe public policy manager Laura Bononcini, journalists and academics from Hong Kong and many others took part in the Forum.