NRC: Youth League delegation promises to strive for adequate compensation for homeless
They had visited Kachurthal village and took stock the situation after alleged rioters burnt down houses of villagers from a minority community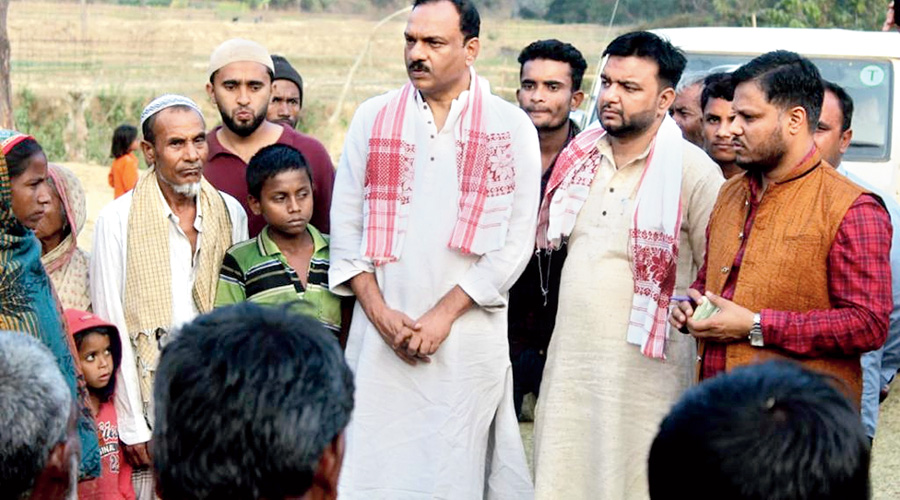 ---
---
A Muslim Youth League delegation that recently visited Assam has promised to strive for ensuring adequate compensation for those who lost their houses and offer legal help to restore National Register of Citizen papers destroyed in arson in Kachurthal village bordering Mizoram.
A delegation of the youth wing of Indian Union Muslim League had visited the village and took stock the situation after alleged rioters burnt down houses of villagers from a minority community who lost all their belongings, including the NRC papers that establish their citizenship.
The village falls under Ramnathpur police station in Katlicherra revenue circle of Hailakandi district that has witnessed communal tension over several years.
More than a 100 houses have been damaged or destroyed in the recent arson attacks that left more than 20 people injured. The delegation visited the injured admitted to Silchar Medical College and Hospital, the Muslim Youth League said in a statement issued on Tuesday.
"The total failure of the state government in controlling the situation was what led to the riots. The situation was quite peaceful in recent times," it said.
The delegation led by Youth League national president Asif Ansari and general secretary C.K. Zubair had embarked on the trip after IUML leader E.T. Mohammed Basheer raised the matter in the Lok Sabha recently.
The visiting team provided emergency assistance of dry rations to the riot victims who had lost all their belongings.
According to the statement, the villagers apprised the delegation of the larger conspiracy behind the rioting and arson that left them without the crucial NRC documents.
"The villagers are in a state of shock after having lost the documents that prove their citizenship and their homes," the statement said.
The delegation headed to the village under an armed escort of Assam police and CRPF since the situation remained tense.
The team met senior police officials and sought adequate security for the villagers living in fear since the attacks.