Northeast outcry over Modi 'baat'
My dear countrymen, I receive a lot of suggestions, but it would be safe to say that this suggestion is unique: Modi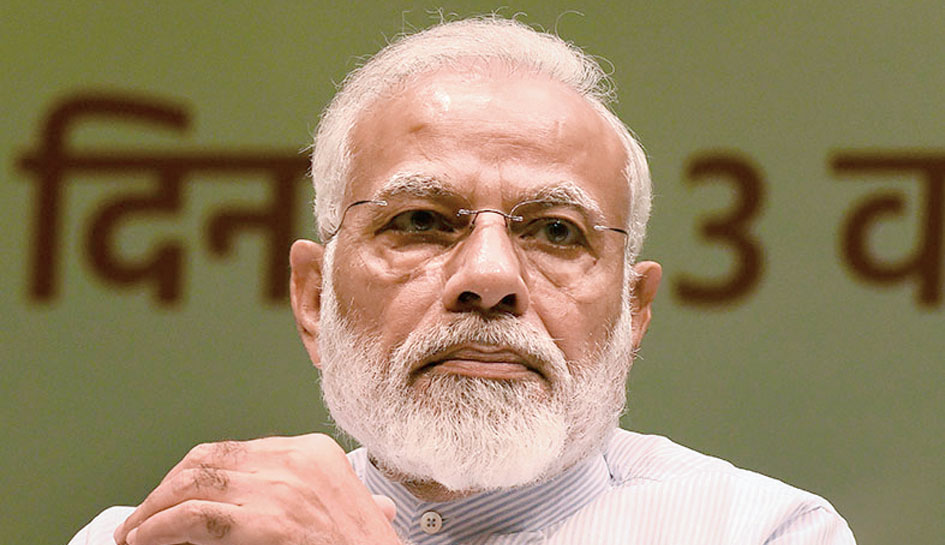 ---
|
Guwahati
|
Published 29.12.19, 08:35 PM
---
Prime Minister Narendra Modi said in Mann ki Baat on Sunday that a suggestion given by a person from Northeast on star gazing is unique.
"We witnessed the last solar eclipse of this decade. Possibly, this solar eclipse prompted Ripun to write a very interesting comment on the MyGov portal. He writes, "Hello sir. My name is Ripun...I belong to the Northeast, and am currently working in south India. I would like to share something with you. I remember that due to the clear skies in our region, we used to gaze at the stars in the sky for hours together. I used to enjoy star-gazing. Now I am a professional, and because of my daily routine, I am unable to find time for such activities...can you discuss this topic in your show. Particularly, on how to popularise astronomy among the youth," Modi said on Sunday in the last episode on Mann ki Baat this year.
He said, "My dear countrymen, I receive a lot of suggestions, but it would be safe to say that this suggestion is unique. I have often spoken about many aspects of science. Especially the insistence of the youth has given me an opportunity to talk about science."
Modi did not disclose the full name of the person or from which place in Northeast he comes.
However, netizens of Assam asked Modi why he was not listening to the voice of Assam.
"When PM doesn't listen to our Mann ki Baat, why should we? From Assam..," Sukanya tweeted.
"If you are deaf to our problems...why should we listen to yours," Arun Koiry tweeted.
"And when will PM listen to our Mann ki Baat? Jayanta Madhav Bora tweeted.
Reacting to the speech, the general secretary of the All Assam Students' Union, Lurinjyoti Gogoi, told The Telegraph that the Prime Minister doesn't realise the sentiments of the Assamese people.
"We are protesting against the divisive act as it is a threat to our very existence. We are protecting our future, our culture, language and identity. But Modi doesn't understand this and Assam is not in the heart of the government. Modi is not showing any respect to the democratic protest against the Act," he added.
The general secretary said Modi had promised before the 2014 Lok Sabha polls to send illegal immigrants to Bangladesh by May 16, 2014.
"But now he is forcing Assam to accept the burden of 43 years of illegal foreigners. Modi promised that he will implement the Assam Accord but his government has brought a law which directly violates the accord. He betrayed the people of Assam and failed to listen to the Mann ki Baat of people of Assam," he added.
Schoolchildren and others enjoyed the sight of the solar eclipse at the Regional Science Centre and Guwahati Planetarium here on Thursday, which had made special arrangement to help people witness the eclipse which began at 8.39am and continued up to 11.36am.
Modi said he had also been eager to watch the solar eclipse on Thursday but unfortunately, on that day overcast skies in New Delhi prevented him from doing so.
"I did get to see beautiful pictures of the solar eclipse that was visible in Kozhikode and some other parts of India. The sun was visible in the form of a shining ring. On that day, I had the opportunity to talk to some experts in this field...and they told me, that this is caused due to the fact that the moon is located far away from the earth and hence, it is unable to completely cover the sun. Hence, a ring-like shape is formed. This solar eclipse is an annular solar eclipse, also referred to as valay grahan or kundal grahan. The eclipse reminds us that that we are travelling in space while residing on the earth," he said. He said, "India has an ancient and glorious history of astronomy. Our connection with the twinkling stars in the sky is as old as our civilisation."
He said many people install amateur telescopes on their balconies or terrace.
Star gazing can also encourage rural camps and rural picnics. He said various festivals will be celebrated throughout India in the middle of January based on the sun's motion.
"From Punjab to Tamil Nadu...from Gujarat to Assam...people will celebrate various festivals. Makar sankranti and uttarayan are celebrated with great fervour in the month of January.
They are considered a symbol of energy. During this time, we will see the celebration of Lohri in Punjab, Pongal in Tamil Nadu and Magh Bihu in Assam. These festivals have a close link with the prosperity of farmers and their crops," he added.
Additional reporting by Rokibuz Zaman