Nonagenarian invites Modi
'As witness not orator'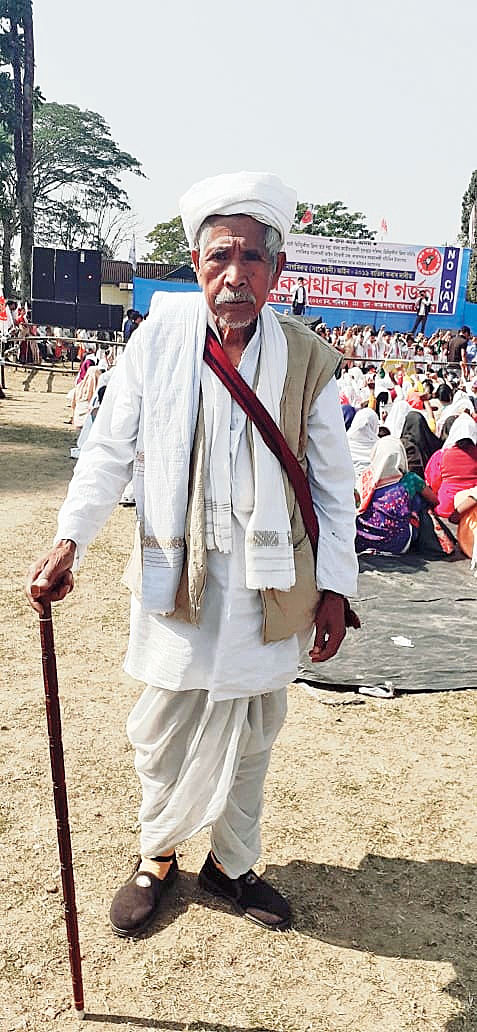 ---
---
Bhuwaneswar Moran, 95, a resident of Sadiya subdivision in Tinsukia district of Upper Assam on Tuesday invited Prime Minister Narendra Modi to visit the area — not to deliver a bhashan (speech) but to witness the problems villagers face even 73 years after Independence.
He wants Modi dangoria (Sir) to solve problems and not to accentuate them by passing laws like the Citizenship Amendment Act (CAA).
"I invite Modi dangoria to visit the villages in Sadiya but not for his bhashan. I know he is considered the best orator but people can now understand how hollow his claim of Sabka Sath, Sabka Vikas, Sabka Viswas is. During his tenure as the Prime Minister, even a 26km rail line from Dangari (the nearest rail line) to Sadiya could not be constructed," he said.
Moran said India is yet to achieve freedom in the true sense — freedom from unemployment, poverty, illiteracy and discrimination on the basis of caste and religion. He said the Muttocks, Morans, Chutias, Sonowals and Kacharis had dreamt of the dawn of development in post-Independent India but it is yet to be realised.
The nonagenarian said the people need jobs, healthcare facilities, education, communication, financial back-up and hi-tech infrastructure for farming, rehabilitation of flood-affected people, land rights for the landless and aforestation to stop human-animal conflict, to name a few. Floods and erosion (with the Brahmaputra and its tributaries flowing through the subdivision) are a major concern in Sadiya as is biodiversity conservation. "Will the CAA be able to ensure all these?" Moran asked. He urged the Prime Minister to focus on development and suggested that "immediate scrapping of the Act would be the wisest decision."
Moran said if Sadiya is developed as a tourist destination, the government can earn revenue and youths can have jobs. "But all this can come later. First, the Prime Minister should visit Sadiya and witness the problems and feel the pain of the people. Let him feel that the CAA will accentuate problems. Modi dangoria, aapuni aahak (Modi Sir, come)," he invited.