No cabinet resolution, says Conrad K. Sangma
In May last year, the Conrad K. Sangma cabinet had come up with a resolution to oppose the bill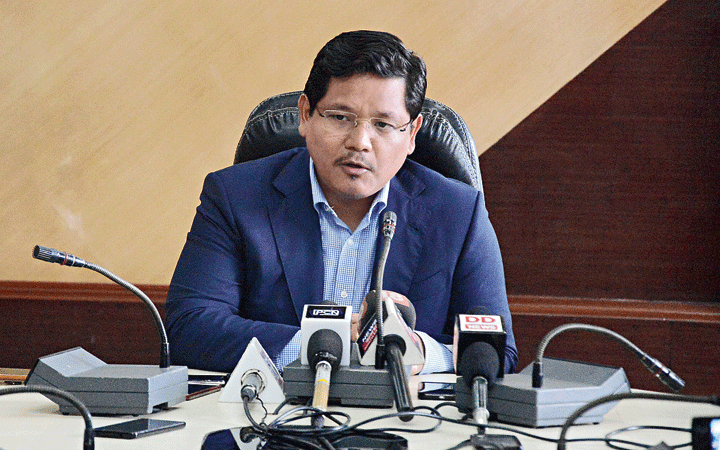 ---
|
Shillong
|
Published 19.11.19, 08:10 PM
---
The Meghalaya government will not bring a cabinet resolution this time to oppose the Citizenship (Amendment) Bill, which could be tabled during the ongoing winter session of Parliament.
In May last year, the Conrad K. Sangma cabinet had come up with a resolution to oppose the bill.
"Last year we had come up with a resolution because there was no discussion about our concerns. We were not even asked whether you are concerned about the bill. When no discussions took place, we had no choice but to go ahead with that resolution," the chief minister said here on Tuesday.
This time round, he said, "there is a lot of discussion and consultation" taking place and the state has been asked about the issues and concerns regarding the bill, and how those concerns can be addressed.
Conrad was probably hinting at the consultation the Centre was holding with the state government on the bill. Last week, he met Union home minister Amit Shah and discussed the proposed legislation.
"I think when talks are going on, we are looking forward to a very positive response to address our concerns. At this point, since the approach is very different compared to last time, I don't think there is a resolution (which is required)," Conrad said. However, the chief minister also said "let us see if the issues and concerns will be addressed".
On the appeal by Congress legislator M. Ampareen Lyngdoh to convene an all-party meeting to discuss the bill, Conrad said such a meeting had been held recently where even representatives from the Congress had participated.
"I think whoever has made this appeal is not aware that we had already called an all-party meeting to discuss the bill, issues relating to the amendment of Sixth Schedule, and others," he said.
On the "stay off the road" protest called by the Confederation of Meghalaya Social Organisations since Monday evening, the chief minister said there was no such programme. On Sunday, the confederation had announced the protest would be held from 7pm on Monday till 6am on Tuesday, and again from 7pm on Tuesday till 6am on Wednesday.
The first day of the protest was largely successful and peaceful as many roads here were deserted.
"There is no protest like stay off the roads as no organisation has come forward or is involved. There is nothing to worry. Everything is normal. We are in touch with different stakeholders," Conrad said.
The bill, which seeks to amend the Citizenship Act, 1955, in order to grant citizenship to non-Muslims who fled Afghanistan, Bangladesh and Pakistan fearing religious persecution, has been vehemently opposed by various groups in the Northeast.