Ngangom Bala Devi's fitness mantra to beat coronavirus blues
She could play just two games for her side after the first two matches were postponed owing to bad weather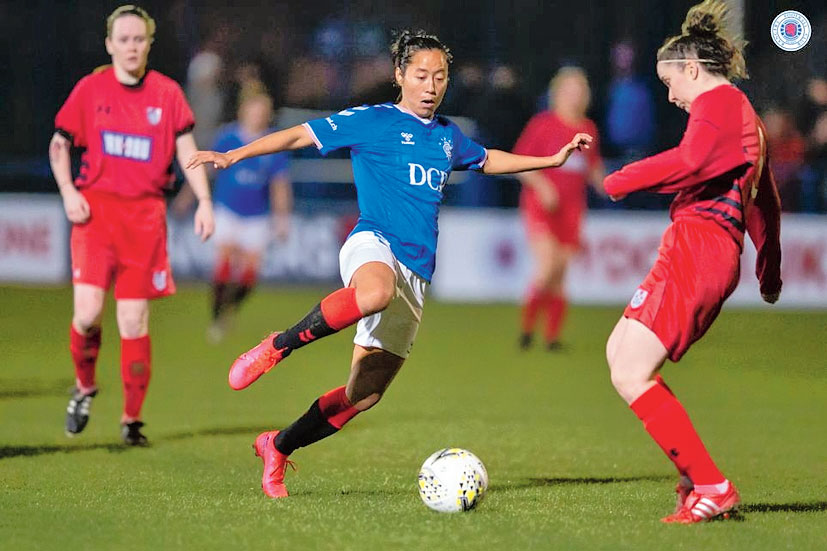 Bala Devi in action for Rangers FC.
Picture courtesy: Twitter
---
Guwahati
|
Published 21.04.20, 08:03 PM
|
---
Ngangom Bala Devi, India's first woman footballer to play outside the country professionally, is making best use of lockdown period by keeping herself fit.
Bala, who signed an 18-month contract with Rangers FC, a Scottish professional football club, early this year, has been stuck in Glasgow after the Scottish Women's Premier League had to be stopped midway in the wake of Covid-19 outbreak.
It was in these conditions that Bala Devi quietly celebrated Cheiraoba, the Manipuri New Year, alone in her apartment in Scotland on April 14.
"It was a quiet celebration. I spoke to my family and friends. These are difficult times for the world and I hope that we will be able to overcome it soon," she told The Telegraph.
She could play just two games for her side after the first two matches were postponed owing to bad weather.
"I'm trying to keep my fitness level up with lot of activities. I am utilising this time to ensure that I get fitter and once we are back in the field, I can perform to my best of the ability. The club has taken great care of everything," she added.
The striker is the current top scorer for the Indian national women's team, netting an impressive 52 times in 58 games, which also makes her one of the top international goal scorers in the South Asian region.
She has also served as the national team's captain in a distinguished international career, which began when she was 15.
With the Indian women's team FIFA ranking bettered to 55th position, Bala hope that even brighter days are ahead.
"There is a lot of talent and with the opportunity of world tournaments like U-17 World Cup being hosted in our country, we are going to see more girls take up the sport. Also, with the leagues becoming more popular, interest in the sport is growing in the country. With so many positives, I definitely see the team growing and achieving better results and rankings," she added.
On her home state Manipur winning a record number of women's national championship title — 20 times out of 25 — Bala said it's just the love and passion for the game.
"Football is huge in Manipur and kids start playing early. The love and passion for the game is what drives everyone there to play their best and always perform," she added.
Manipur has produced some of the best footballers of the country, including Oinam Bembem Devi, awarded the Padma Shri, and former India captain Renedy Singh.
The 30-year-old forward said their contribution in shaping her career was immense.
"They have been extremely important. They have always guided me and motivated me. It was an honour to share the same field with Bembem Devi. There was always so much to learn from them. Their support has helped me become a better player and to grow in my career," she said.