New cicada species found in Umiam
Remember cicadas - the noisy insects which make various kinds of sounds from tall trees?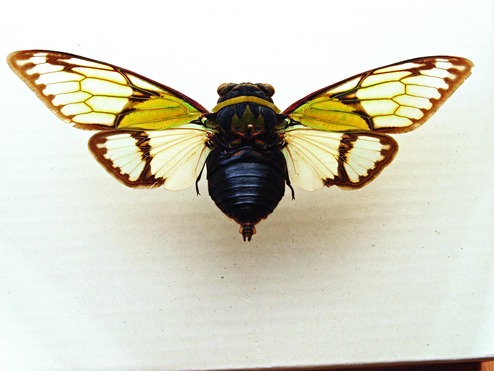 ---
Guwahati
|
Published 29.03.18, 12:00 AM
|
---
Guwahati: Remember cicadas - the noisy insects which make various kinds of sounds from tall trees?
A new cicada species, Salvazana mirabilis mirabilis, has been found in Meghalaya, adding to the rich cicada diversity of the state which has got around 40 species.
"It is a new record for India and till now found only in Thailand, Vietnam, Laos, and China. It is a much larger and colourful cicada compared to other cicadas. This particular cicada appears to prefer tall trees and its calls appear to be in the form of a short and intermittent buzz calling from tall trees," Sudhanya Ray Hajong of the zoology department in North Eastern Hill University (Nehu) told The Telegraph. It was found in 2016.
The record finds mention in the current issue of Journal of Threatened Taxa.
Cicadas are very noisy insects inhabiting tropical and dense forests and produce noise by vibrating the membranes of their abdomen. They live in trees, feed on sapand lay eggs in the bark. They make the sound to avoid predators.
"The present specimen of Salvazana mirabilis mirabilis was collected from Umiam, 20km northeast of Shillong. It is located at an altitude ranging from 1,000 to 1,100 metres and has mixed vegetation consisting mainly of pine trees. The major pine species belong to Pinus kesiya, which grows to a height of 10 to 20 metres and thus may constitute an important canopy habitat for this large cicada. They appear to peak around June-July. They prefer tall pine tree canopies for resting and are also likely to gather below the canopy layer of medium or high trees," Hajong said.
#"For survey of cicada fauna, we generally follow forest trails and locate the male cicadas by their calls. We also attempt to locate the females within the vicinity of the calling males. After spotting them, we use long-handled insect-collecting nets," he added.
According to Hajong, there is an interesting cicada by the name of Chremistica Ribhoi or "World Cup cicada" or Niangtaser as it is called by the Khasis in Ri Bhoi district of Meghalaya.
"It emerges every four years. The last mass emergence was in May 2014 and it is again coming in mass emergence in May-June. This is an interesting phenomena and a local cicada festival is held in Ri Bhoi district in a village called Saiden to commemorate this natural occurrence."
Hajong said it is not known whether its sister sub-species Salvazana mirabilis imperialis also occurs in this region, as no reports exist. Rodeson Thangkiew of the zoology department helped Hajong.