Neolithic tools found at dig
Archaeologists said the two celt pieces are of remarkable importance as the tools may date back to the Neolithic period and their discovery at Vangchhia is a mystery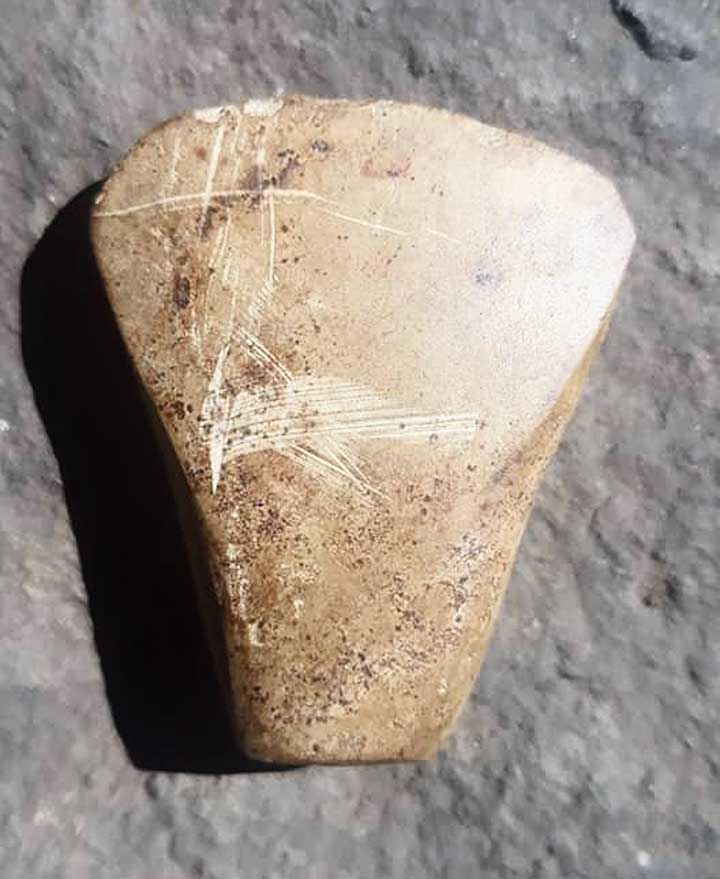 A celt found at the excavation site.
Picture courtesy: Facebook page of Ct Khiangte
---
Guwahati
|
Published 12.02.19, 08:02 AM
|
---
Two pieces of celt (stone tools) in the shape of an axe head, presumably of a prehistoric origin, were discovered a couple of days ago in Zep village from an excavation site at Vangchhia in Mizoram's Champhai district.
The excavation is the third one being conducted by the Archaeological Survey of India (ASI).
Archaeologists said the two celt pieces are of remarkable importance as the tools may date back to the Neolithic period and their discovery at Vangchhia is a mystery.
Sujeet Nayan, the deputy superintending archaeologist of ASI (Aizawl circle) and the head of excavation at Vangchhia, said these pieces were used by the people in the Neolithic period.
However, whether these pieces were used in Mizoram cannot be said till further research and study, he added.
"It gives a little amount of linkage as celts were important in the Neolithic period. But how and why the pieces came to Vangchhia is still a mystery that we need to solve through exploration and excavation. Such celt pieces have been found in different parts of the country," said Nayan.
"Vangchhia is special for the people of Mizoram and is unique. On the basis of whatever we found during the previous two excavations in the last two years, I can still say we have less linkage with other parts of the country. I hope we can find some more clues," he added.
The two pieces were found by a farmer near Vangchhia. The villager's brother works on the excavation site and brought the pieces to Ct. Khiangte, an archaeologist.
Khiangte said in her Facebook post, "As I requested him to bring it he showed me this beautiful celt. Previously there were no reports of stone tools in this area. It is interesting to know that stone tools are found in this area. I hope more could be found if there is more exploration."