Modi praise for 'Arunachal tradition'
PM reminded the audience that when we perform our duties, others rights are protected too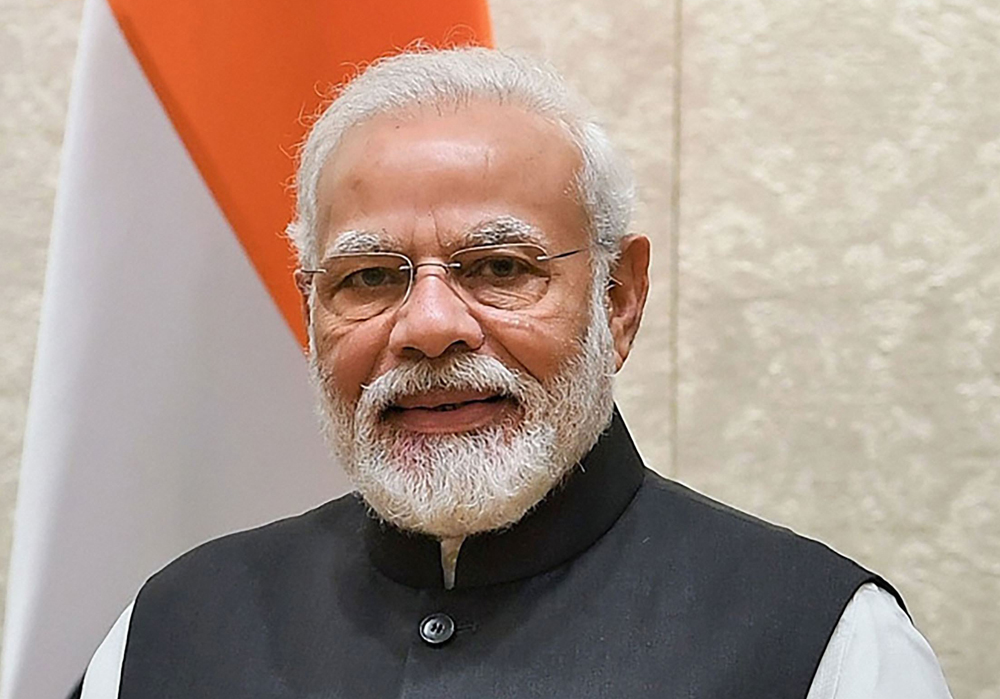 Narendra Modi
(PTI photo)
---
Guwahati
|
Published 20.01.20, 07:08 PM
|
---
Prime Minister Narendra Modi on Monday claimed Arunachal Pradesh was the only state in the country where people greet each other with Jai Hind.
He said this during an interaction with students, teachers and parents called Pariksha Pe Charcha 3.0 in New Delhi, while replying to Tapi Aku, a class XII student of Jawahar Navodaya Vidyalaya, Papum Pare, who asked: "How do we create awareness in people about their duties?"
"It is obvious that such a question can come from a student from Arunachal Pradesh. Arunachal is the only state in India in which people greet each other with Jai Hind whenever they meet each other. This is rare," Modi said.
Elaborating further, he said: "After the 1962 war, this has been their mood. They have mastered both Hindi and English equally. I want all of you to go to the Northeast on vacation if you can. Our country is amazing. It must be experienced."
Modi reminded the audience that when we perform our duties, others rights are protected too.
Arunachal Pradesh chief minister Pema Khandu later tweeted: "That's so heart touching! I am so proud of you dear sister Tapi Aku to have asked such a beautiful and relevant question to PM Shri Narendra Modiji. Also thank you for reminding each of us that doing one's own duty can guarantee the right of all."
Subhashish Chakma, a class XI student of JNV, Kherlungari, North Tripura, asked Modi: "My elder sister used to scold me always because I often do late night study and can't wake up early in the morning. Am I doing something wrong?"
The Prime Minister answered, "It is very difficult for me to answer. But it is true that after a sound sleep, reasonably, if you start studying before sunrise, you are mentally much sound that time. Jaise barish ke baad kaisa aasman saf hota hai, vaisa mann bhi hota hai (As the sky clears after showers, so does the mind after rest). I believe that morning is the best period for study. If you are comfortable at night, study at night. Otherwise, if the result will not come good, you will complain to Didi, tere karan result achha nahi aaya kyonki raat ko tum mujhe padhne nahi deti thi (My result was bad as you didn't allow me to study at night)."
On losing interest while studying, he said most often students get de-motivated owing to factors that are external and also because they try to attach too much significance to their own expectations. "We should not look at failures as setbacks or stumbling blocks. A setback may mean that the best is yet to come. We should try to convert our distressed situations as stepping stones for a bright future," Modi said.
He also talked about how former Indian bowler Anil Kumble bowled the team to victory notwithstanding his injury. "This is the power of positive motivation," he said.
The interaction, which lasted over one-and-a-half hours, saw students seeking guidance on various issues of importance. He wished all the students a prosperous New Year and new decade.
Additional reporting by Manoj Kumar Ojha in Doomdooma