Mizoram poll campaign ends today
Mizoram and Madhya Pradesh will go to the polls on November 28 and results will be declared on December 11.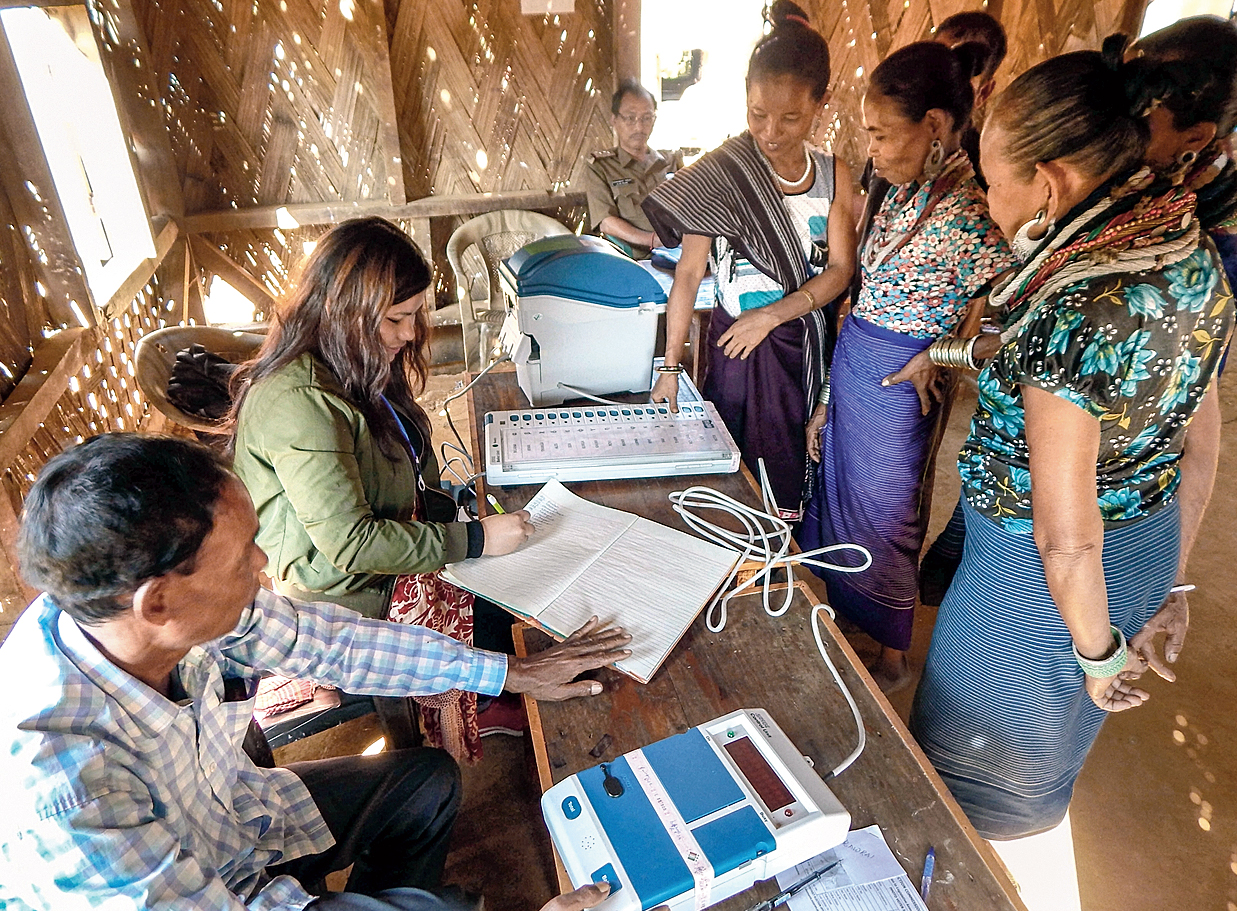 Officials demonstrate how to use an EVM at a refugee camp in Panisagar sub-division in Tripura on Sunday.
(PTI)
---
Aizawl
|
Published 25.11.18, 07:10 PM
|
---
The Mizoram election machinery is fully prepared to conduct elections to the 40-member Assembly, officials said on Sunday.
The state will go to the polls, along with Madhya Pradesh, on November 28 and results will be declared on December 11.
Mizoram has 7,68,181 voters, including 3,93,685 female voters. The electorate will cast their votes in 1,164 polling stations where EVMs would be used. Election officials said some of the polling officers and teams would leave for their stations on Monday.
Polling officers, who will be deployed in nearby stations from here and district headquarters, will leave for their destinations on Tuesday.
Voting will be held between 7am and 4pm and EVMs will rushed to the strong room, officials said. Altogether 40 companies of central armed police forces have been deployed, who will be assisted by state police to ensure smooth conduct of polling, they said.
Counting will be held on December 11 in all eight district headquarters and in Aizawl it will be held in five venues — Assembly annexe, Hrangbana College, Government Aizawl College, Pachhunga University College and R. Dengthuama hall.
Campaign ends at 4pm on Monday.
Three national parties, three regional parties and two unregistered state parties are contesting the Assembly polls.
The ruling Congress and main Opposition, the Mizo National Front (MNF), have fielded 40 each, while the BJP was contesting 39 seats and the Zoram People's Movement (ZPM), an electoral alliance formed by two political parties and four groups, fielded 35 seats.
The People Representation for Identity and Status of Mizoram (Prism) has nominated 13 candidates, the National People's Party (NPP) nine, the Nationalist Congress Party (NCP) five and Zoramthar, floated by a pastor, has fielded 24. Altogether there are 209 candidates, including 18 women. There 63 Independent candidates, including the ZPM and Zoramthar nominees.
For over three decades since 1987, Mizoram election has seen a straight fight between the Congress and the MNF. But this time the ZPM is contesting the polls for the first time. The BJP, which is focusing on five constituencies dominated by the minority Chakmas and Brus, is also likely to open its account.
Lalhmingliana, a political analyst, said the BJP may win in Hachhek, Palak and Tuichawng. He said the BJP and ZPM will be kingmakers in case of a hung Assembly.
The ruling Congress, which has been in power since 2008 is hopeful of retaining power for the third consecutive term, while the MNF expects simple majority.
The Congress and MNF have ruled the state interchangeably since 1987. But no party has been able to form the government for the third term at stretch till date.