Mizoram all set for Chapchar Kut festival
Mizoram is set to celebrate Chapchar Kut festival on March 1 and 2.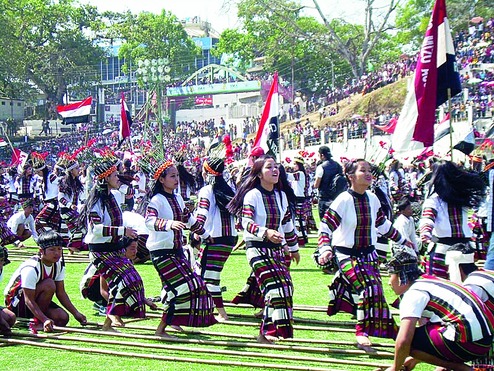 ---
Aizawl
|
Published 19.02.18, 12:00 AM
|
---
Aizawl: Mizoram is set to celebrate Chapchar Kut festival on March 1 and 2.
The two-day event is expected to be graced by Myanmar's Chin state chief minister Sailai Lianluai on the second day.
Preparation is gaining momentum in all parts of the state for the grand celebration.
A meeting of the organising committee held under the leadership of its co-chairman and art and culture minister R. Romawia held recently said the festival will be celebrated with a theme, Sem sem dam dam, ei bil thi thi (Sharing things in equal part with love).
The organising committee said Chapchar Kut will be celebrated across the state and the grand celebration will be organised at the Assam Rifles ground here.
The first day of the festival will be graced by Romawia as the father of the festival, while art and culture director R. Hmingthanzuala will be the host of the festival.
Organising chairman and chief minister Lal Thanhawla will be the host of the festival on the second day.
Unlike previous years, a no-vehicle zone will be set up this year and a free parking zone created for participants as well.
The meeting also deliberated on promoting the festival through billboards, hoardings and Chapchar Kut T-shirts which will be displayed at Lengpui airport to attract tourists.
The organising committee has urged the people of Mizoram to wear traditional attire during the Chapchar Kut week. A souvenir will also be released for the festival.
A photo exhibition will be held as part of the celebration at Vanapa hall, while a handloom and handicraft exhibition will be held at AR Ground volleyball court.
A food court will also be set up at the venue of the main celebration.
The celebration will also see performances by different cultural troupes and artistes.
A costume parade and various Mizo traditional games will also be organised during the celebrations.
Chapchar Kut is the biggest festival of the Mizos and is celebrated in March after completion of jhum operation. It is a spring festival celebrated with great fervour and gaiety.