Midday meal workers turn up the heat
Police have registered a case under Sections 143, 294, 506 and 500 of the IPC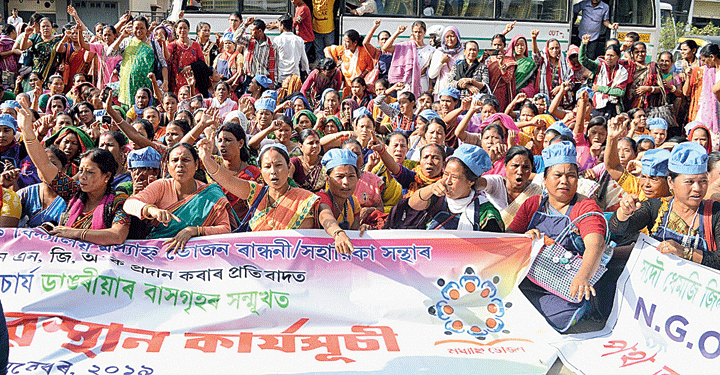 ---
|
Guwahati
|
Published 21.11.19, 07:31 PM
---
The factional feud that erupted between meal workers on Wednesday deepened on Thursday after the president and general secretary of one group filed a Rs 1 crore defamation case against the adviser of the other.
The All Assam Primary and Upper Primary Schools Midday Meal Cook and Helpers' Association president Golapi Boro and general secretary Zahanara Begum filed the defamation case against Trishna Nath, adviser of The All Assam Primary School Cook and Helpers' Association, and 13 others at Sipajhar police station in Darrang district.
According to Boro and Begum, Nath and her followers had forcefully prevented them from addressing the media on Wednesday and threatened to burn Begum alive.
After filing the case, Begum said, "Trishna Nath, who is neither a cook nor a helper, provoked certain midday meal cooks and helpers and formed another faction to destabilise our movement. Nath and her followers threatened to burn me alive forcefully stopped me and our members from addressing the media at Guwahati Press Club on Wednesday. She curtailed my democratic rights."
Begum alleged that Nath has been misguiding some meal workers carrying out protests according to the directives of the state government and the NGOs engaged in cooking and supplying midday meals. "She has taken the law in her own hands to curtail our democratic rights. She shouted slogans in front of the press club and defamed us in public for no reason," she said.
Nath said, "On Wednesday, we visited the Press Club to meet the leaders of the association. Our intention was not to bar them from addressing the media. There were certain financial anomalies in the meal workers' association for which we went there to meet Boro and Begum.
"I have not created divisions. Instead, I have tried to reunite the meal workers. I have been asked to remain as adviser," she added.
Sipajhar police have registered a case under Sections 143, 294, 506 and 500 of the IPC against Nath and begun investigation.