Meghalaya body's Shylla wary of refugee influx
Khasi body's chief fears global warming could create 'environmental refugees' from Bangladesh as ocean water levels rise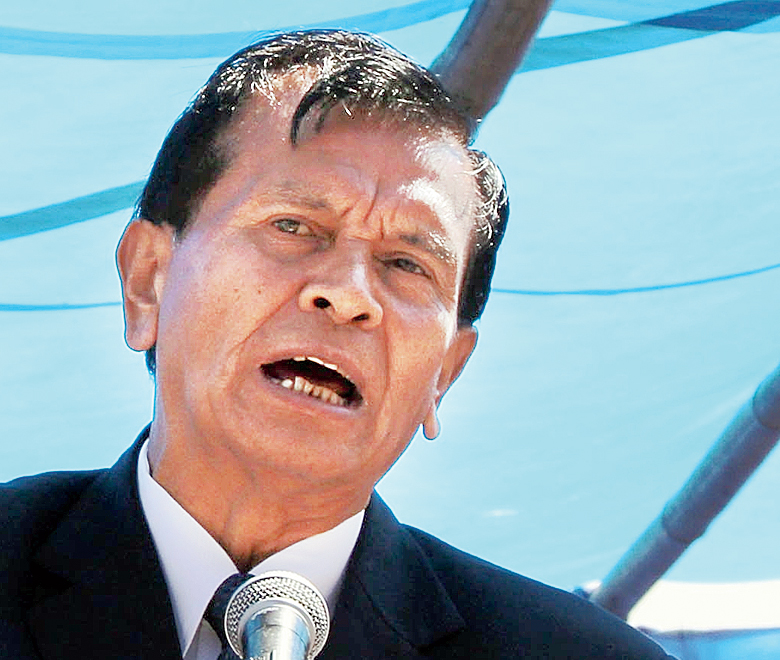 H.S. Shylla
Telegraph picture
---
Shillong
|
Published 21.11.18, 09:08 PM
|
---
The Khasi Hills Autonomous District Council on Wednesday expressed concern over the probability of refugees coming to Meghalaya from Bangladesh if the neighbouring country is submerged owing to global warming.
The plains of Bangladesh adjoin the hills of Meghalaya along a 443km border.
The council also decided to write to the Meghalaya government to appeal to the United Nations, through the Centre, to exempt the state from accepting and providing shelter to "environmental refugees".
Expressing these views during the second day of the three-day winter session of the council, chief executive member H.S. Shylla said there was danger of "environmental refugees" from Bangladesh, which has a population of 150 million, to seek shelter in Meghalaya.
The state has a population of a little more than 30 lakh. "There are reports that already five million Bangladeshis have entered India, including Meghalaya, after being displaced. Bangladesh is getting submerged due to adverse effects of global warming and 80 per cent of its land is prone to flooding. The submergence of the country will be a danger for the indigenous people here as there is every likelihood of environmental refugees trying to enter our land," Shylla said, while replying to a motion by council member Grace M. Kharpuri.
Shylla reminded the council about the existence of the UN Declaration on the Rights of Indigenous Peoples, 2007. India had voted in favour of the declaration.
"As indigenous people, we have to be safeguarded under the UN Declaration. We will write to the state government to speak to the Centre, and in turn, the Centre should request the UN to exempt our land from being utilised to shelter refugees," he said.
Shylla was referring to an exemption from the 1951 Convention relating to the Status of Refugees and its 1967 Protocol, which have been adopted to safeguard the fundamental rights of refugees, and to regulate their status in countries of asylum. They help in ensuring that refugees are granted basic humanitarian treatment.
According to the declaration, states shall provide effective mechanisms for prevention of, and redress for any action which has the aim or effect of dispossessing them of the indigenous peoples' lands, territories or resources.
Shylla opined that the indigenous population here is minuscule compared to the anticipated flow of refugees from Bangladesh.
"Even if only three million Bangladeshi nationals enter our land, our indigenous populace will not be able to withstand it," he added.