Meghalaya bars teachers from politics
Teachers of government-aided schools have to quit their jobs to join politics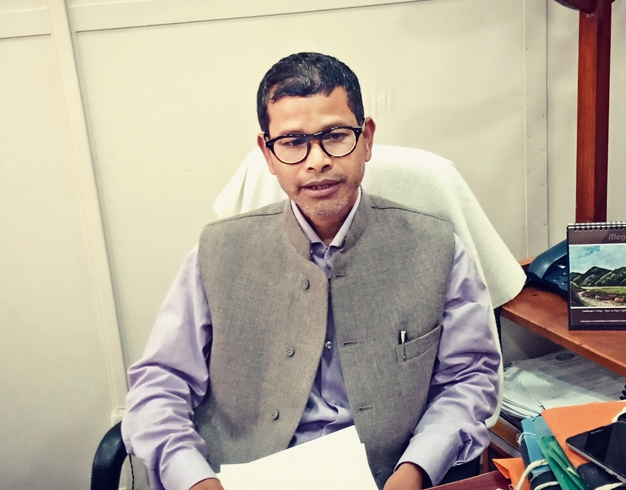 Education minister Lahkmen Rymbui at the news conference on Thursday.
Picture by Rining Lyngdoh
---
Shillong
|
Published 06.12.18, 06:58 PM
|
---
Teachers of government-aided schools in Meghalaya have been barred from taking part in politics, and they have to quit their job if they want join the electoral battle.

The prohibition came amid strong argument that present day politics is being dominated by business tycoons and a section of cash-rich people, including contractors, who do not possess any educational qualification.
All these years, teachers of government-aided schools and colleges were allowed to take part in politics. Those who contested elections were also allowed to take leave for a certain period, and got the chance to come back to the profession if they emerged unsuccessful.
Speaking to reporters here on Thursday, education minister Lahkmen Rymbui said barring teachers from joining politics has been part of the Meghalaya State Education Policy, 2018.
The policy was approved by the state cabinet on September 21 and the same was approved by governor Tathagata Roy on September 26.
"So far as education is concerned, schools should be kept free from politics. For this purpose, government and government-aided school teachers will be barred from taking part in political activities and political associations," the policy said.
According to Rymbui, now there are many qualified people, and they should come forward and take part in politics and contest elections.
The minister, however, said teachers in privately-run schools are out of the purview of the policy.
"Now, teachers have to resign from their profession if they want to join politics and contest elections. Mixing political activities with educational institutes is not a healthy trend," Rymbui said, adding that since the policy has been approved, a rule would be framed in this regard.
In the past, the Meghalaya Assembly would have highly qualified representatives from different constituencies which include authors, professors, lecturers, teachers, lawyers and others, because they are considered as the most qualified people who can legislate laws and frame policies for the state.
Former chief minister, late Evansius Kek Mawlong who began his political career in 1972, was a high school teacher. He got elected for the first time in 1978 from Umroi constituency.
Similarly, former chief minister D.D. Lapang was a school teacher and had held the post of sub-inspector of schools.
Lapang got elected for the first time in 1972 from Nongpoh constituency.
Another former chief minister, Jing Dringwell Rymbai, was the headmaster of a school in Ri Bhoi district and engaged himself in politics and won for the first time from Jirang constituency in 1983.
However, at present, business entrepreneurs as well as cash-rich people who did not possess good educational qualifications are joining politics, and a good number of them were also elected as members of the Assembly.