Lynching now a street power under BJP: Yogendra Yadav
Yadav said as a consequence of the BJP's huge mandate, there is now electoral authoritarianism and non-theocratic majoritarianism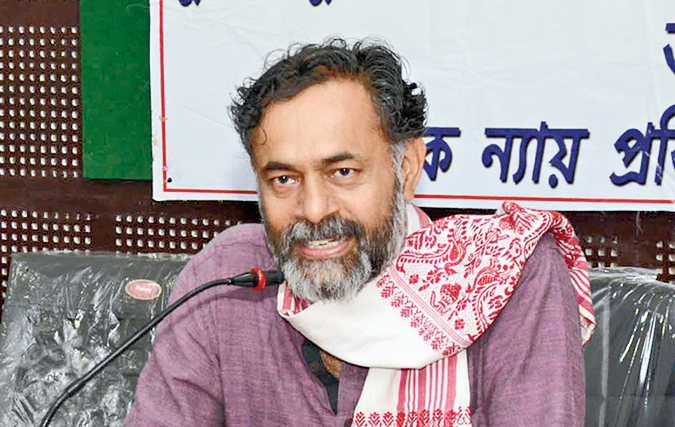 ---
|
Guwahati
|
Published 30.06.19, 09:57 PM
---
Mob lynching has emerged as a street power under the BJP's rule of dominance in the country, political analyst Yogendra Yadav said on Sunday.
"BJP's dominance is presently recognised with increasing number of lynchings in the country that can be termed as street power. The other two areas where BJP's dominance lies are state power and electoral power," Yadav, a noted psephologist, said.
Yadav was delivering the fourth Amalendu Guha Memorial Lecture on the topic, Politics after Modi: Hegemony and counter-hegemony in our times, at Cotton University.
The lecture was organised by Omeo Kumar Das (OKD) Institute of Social Change and Development Organisation in collaboration with the Amalendu Guha Memorial Lecture organising committee.
Speaking on the consequence of the Lok Sabha election result declared on May 23, Yadav said, "There is a sense of disbelief, despair and shock amidst a section of people which is true, but to tackle with the dominance of BJP, who dismantled the very idea of India, it is important to accept the reality and come out of the denial mode." Yadav suggested production of counter-hegemony ideas through establishing a battle of position by fairly participating in the formal electoral process that comes as a part of democracy, continue to resist the idea that assaults on democratic structures of the country like Citizenship (Amendment) Bill and by protecting the cultural ideology that people have already lost.
"Despite all the windows being closed down, counter-hegemonic ideas must be spread by speaking to voters, showing reverence to the government they voted for and engaging them in resisting assaults like lynching."
Yadav criticised the BJP government and said as a consequence of the huge mandate, there is now electoral authoritarianism and non-theocratic majoritarianism which may talk about secularism, but minorities have been reduced to secondary citizens.
Hiren Gohain, noted intellectual from the region, presided over the programme. "We are living in dark times and it is enriching to listen to Yadav at this point," Gohain said, who is the president of the Amalendu Guha Memorial Lecture organising committee.
The programme witnessed the launch of a book on ownership, management and alienation of tribal lands in the Northeast, which was a joint project by the North Eastern Scientific Research Centre and the OKD Institute.
Several dignitaries, including members of Guha's family, and students attended the lecture.