Life goes on at Ganeshguri, one of the sites of the 2008 blasts
We are more vigilant now, say local traders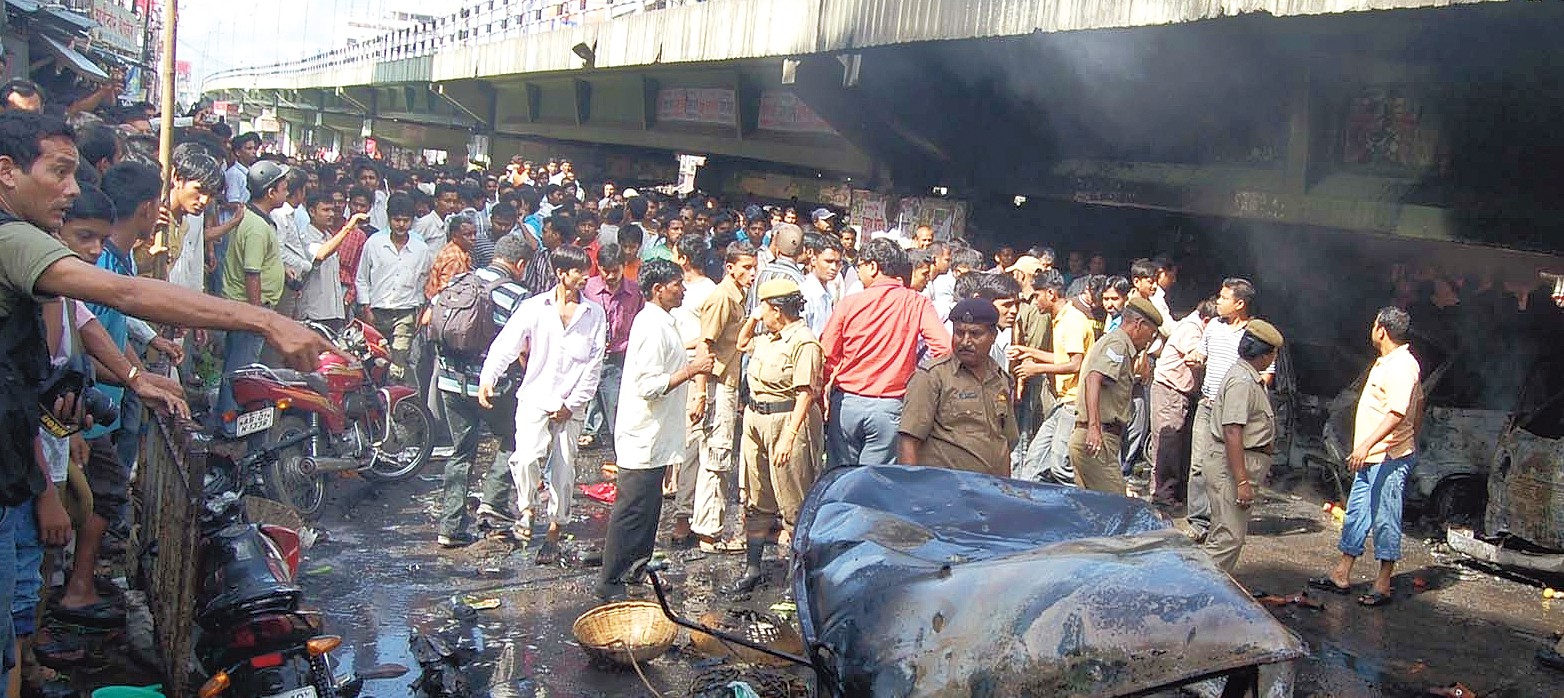 THEN: The Ganeshguri flyover
Picture by UB Photos
---
Guwahati
|
Published 28.01.19, 06:44 PM
|
--- Daily life was normal at Ganeshguri, one of the sites of the 2008 serial bomb blasts, on Monday, the day a special court convicted National Democratic Front of Boroland (R) chief Ranjan Daimary and 13 others.
But it took several weeks for the area to limp back to normalcy. Many of the vendors and others died and several sustained injuries in the blast. Parking of vehicles under the flyover was immediately banned by the administration after that incident. People paid tributes to the departed souls every evening by lighting candles below the flyover.
"For many days after the incident, Ganeshguri was surrounded by security personnel. It was almost like a war zone. But over time, things became normal. We don't want to witness such a day anymore in our country. We want to live peacefully," said Dilip, a fruit vendor.
Jayanta Saharia of Das Liquor shop ,who has witnessed the chaos after the blast, said they have became more vigilant. "People here have become much more aware. Now if a car is parked for a longer time, we alert the police. The awareness level has increased," Saharia said. The district administration reopened the parking lot to the public under the flyovers in 2015. CCTV cameras were installed though these don't work properly all the time.
The number of people and commercial establishments has increased significantly in the area in the past 10 years. But there are certain things which time couldn't heal for many who were present during the ghastly incident.
"It was just another normal day but it turned out to be one of the deadliest. I came out from my home towards Last Gate but what I witnessed I will never, ever forget," photojournalist Manoj Deka said. The ghastly images of that day still haunt him.
"Though Ganeshguri has moved on after that episode, even today I feel goosebumps whenever I cross the place," he added.
The state government has been observing October 30 as the day to pay tributes to the blast victims.
What happened on October 30, 2008
A series of blasts rocks Guwahati, Kokrajhar, Bongaigaon and Barpeta in lower Assam, killing 88 people and injuring over 500, 141 seriously. The sites all busy areas to effect maximum damage. The blasts are near-simultaneous.

In Guwahati, the first blast goes off around 10.30am along the Ganeshguri flyover. An explosive-laden car used to carry out the blast. Within about 10 minutes, bombs go off on the busy CJM court campus, near the DC office at Kachari and near Panbazar police station.

Residents clash with police after the blasts in some areas, an ambulance burnt at Ganeshguri, hundreds of vehicles damaged. Curfew imposed in some areas

Victims rushed to GMCH, MMCH, Army Hospital, Dispur Hospital, Dispur Polyclinic and International Hospital. Appeals were issued to donate blood.

Forensic officials said RDX was used in the blasts. Later they said nearly 80kg of RDX used.

In Guwahati, the explosives were planted in three Maruti cars, each with 25-30kg RDX