Lack of jobs, poverty in focus in Manipur's Senapati district
According to the economic survey 2020-21, the unemployment rate in the age group of 15 to 24 is around 44.4 per cent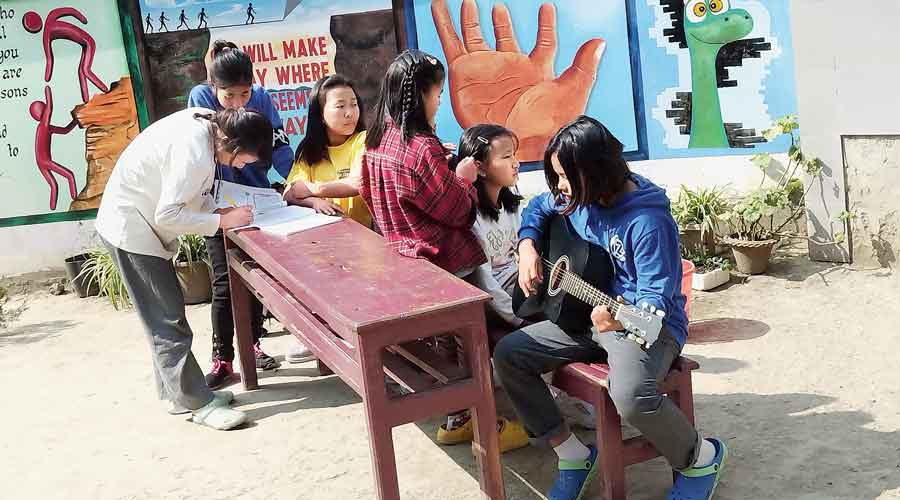 Residents of the children's home run by Heni in Manipur's Senapati town.
The Telegraph
---
Senapati
|
Published 05.03.22, 02:01 AM
|
---
Poverty had compelled 42-year-old Robin Raomai Heni from Manipur's Senapati district to leave home in the 90s in search of livelihood and a good education soon after two of his sisters died for want of proper medical care.
After completing his studies in Coimbatore and Kottayam while doing odd jobs, including washing dishes at a hotel, Heni returned home to "do something for the underprivileged children". He gathered abandoned, orphaned and poor children from far-flung areas to start Compassion Children Ministries (CCM), a non-profit, in 2005.
Today, he runs three homes for children here with 120 inmates and 30 staff members, striving to empower them with quality education.
However, things have not changed much by way of development in the hill district, which has three Assembly constituencies voting in the second phase of  the polls on March 5 along with 19 others. The first phase was held on February 28. The BJP leads a coalition government in the state but is up against its allies  National People's Party (NPP), Naga People's Front (NPF) and Janata Dal (U) and Opposition Congress, all promising development.
"Even now, we have to rush to Imphal for minor operations. We still don't have a private hospital here. I am hoping the new government will ensure speedy and equitable development of both the hills and valley because unemployment is emerging as a serious problem in the hills, a primary cause of insurgency and drug addiction in the state," Heni, founder and president of the CCM, said. Though an early and amicable solution to the Naga political problem remains a major issue in the Naga-dominated areas of Manipur, unemployment too takes centre stage during poll discussions in Senapati town, about 60km from capital Imphal.
According to the Economic Survey of Manipur 2020-21, the unemployment rate in the age group of 15 to 24 is around 44.4 per cent. Manipur has an estimated population of 30 lakh.
With a population of over three lakh, Senapati district's count of educated unemployed was over 52,000 till February 2021. The actual figures would be higher because most rural youths don't get registered with the employment exchange, residents said
The state government is the main employer but there has hardly been any recruitment in the past five years, residents said.
"Life in the hills is tough in terms of development compared with the valley but lack of avenues, especially jobs for the educated, is the main problem here, more so after the pandemic when most people who were working outside returned home. I get queries from desperate 22-25-year-old girls for any kind of job in my shop and I feel hapless because there is no opening," said Paone P.K, a mother of three, running a shop dealing in baby items here.
She added: "The unemployment scene is alarming. Hope the next government launches effective schemes for development and women empowerment, besides ensuring proper functioning of the autonomous district councils."
Peter Rangnamei, 51, who runs a girls' orphanage and a disability day care centre besides working with the youth and farmers in Senapati, said: "I had recently visited a village and there are I came to know that of the 130 youths between 18 and 35, 117 had gone to the cities and metros to work in call centres, hotels and parlours."
Manipur has 16 districts, 10 of which are hill districts. However, the valley has 40 of the sixty Assembly seats with around 57 per cent of the state's population.
"The real issue for the valley-hill divide has not been settled... what we see is papering over the cracks, but it will erupt anytime, anywhere. It is like a sleeping volcano. We all favour an early and honourable solution to the Naga problem, but development is also a major issue confronting the hills. Hoping the new government would address this issue effectively," Rangnamei said.