Insult drove girl to 'suicide' - Namrata was abused by principal, say classmates' parents
Read more below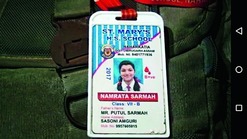 ---
---
Tinsukia, Aug. 31. ' Lorar nisina kaam kore, sualir nisina kaam kore....Lora ne suali (You act like a boy, act like a girl...are you a boy or a girl)?' was the insult hurled at 'tomboyish' Namrata, 13, by the principal of her school, Sister Rency Sebastian, in front of the entire class.
The trigger to the episode: she had allegedly written 'objectionable' things about a lady teacher on her desk and had dared to laugh when she was being reprimanded by Sr Sebastian. The principal then slapped her, which left Namrata crying, say parents of her classmates.
The incident occurred on Tuesday, the day Namrata Sarmah, a Class VII student of St Mary's School, disappeared after her classes were over. Her abandoned bag and ID card along with a 'suicide note' were found on the Gobharu bridge, around 10km from the school, leading people to fear that she may have jumped into the Buri Dihing river. Her body has not been found yet.
While Sr Sebastian denied the allegations, parents of Namrata's classmates told The Telegraph that the child had been slapped, abused and insulted in front of all her classmates and class teacher Ramida Rahman.
Namrata's note said: 'And my lovely mother and my father I love u very much. Please don't be angry with me. Aji moi tiffin ni khua, akol eta guava (I have not eaten tiffin today, only one guava). Sr Rancy is very bad. She self me before all my friend'. The word 'self' in the last sentence is believed to have been misspelt, as has been the principal's name, and that the teenager meant to write slapped in what is believed may have been a suicide note.
'My daughter was beaten, abused and insulted in front of all, something that forced her to take this extreme step,' Namrata's father Putul Sarmah said today. 'Her nature was namra (humble), just like her name. She was good in studies, used to play the dhol (drum) and was very friendly with everybody,' he said, demanding justice for his daughter. Namrata's classmates corroborated this.
'My daughter has stopped eating after the entire incident. She is in shock,' said a parent. The trauma and the anguish has gripped several other students.
'My daughter came back from school and just slept,' said another parent.
'Things turned tough for Namrata after she decided to cut her hair like a boy. She was often teased by seniors and even teachers used to make sarcastic remarks but she never quarrelled with anyone and laughed it off,' yet another parent said.
'My daughter revealed that teachers, over a period of time, had hurled gender-based insults and also harped on the fact that the girl was dusky,' she added.
The police last night registered a case under Section 306 (abetment to suicide), read with Section 34 (common intention) of the Indian Penal Code after Sarmah filed a complaint with Naharkatia police, alleging his daughter was physically assaulted and mentally tortured by school authorities and the teachers. Punishment under the two sections of the IPC can stretch up to 10 years in prison. No arrests have, however, been made so far.