Indo-Thai Army meet focuses on anti-terror operations
Arms and the men, enacted at Umroi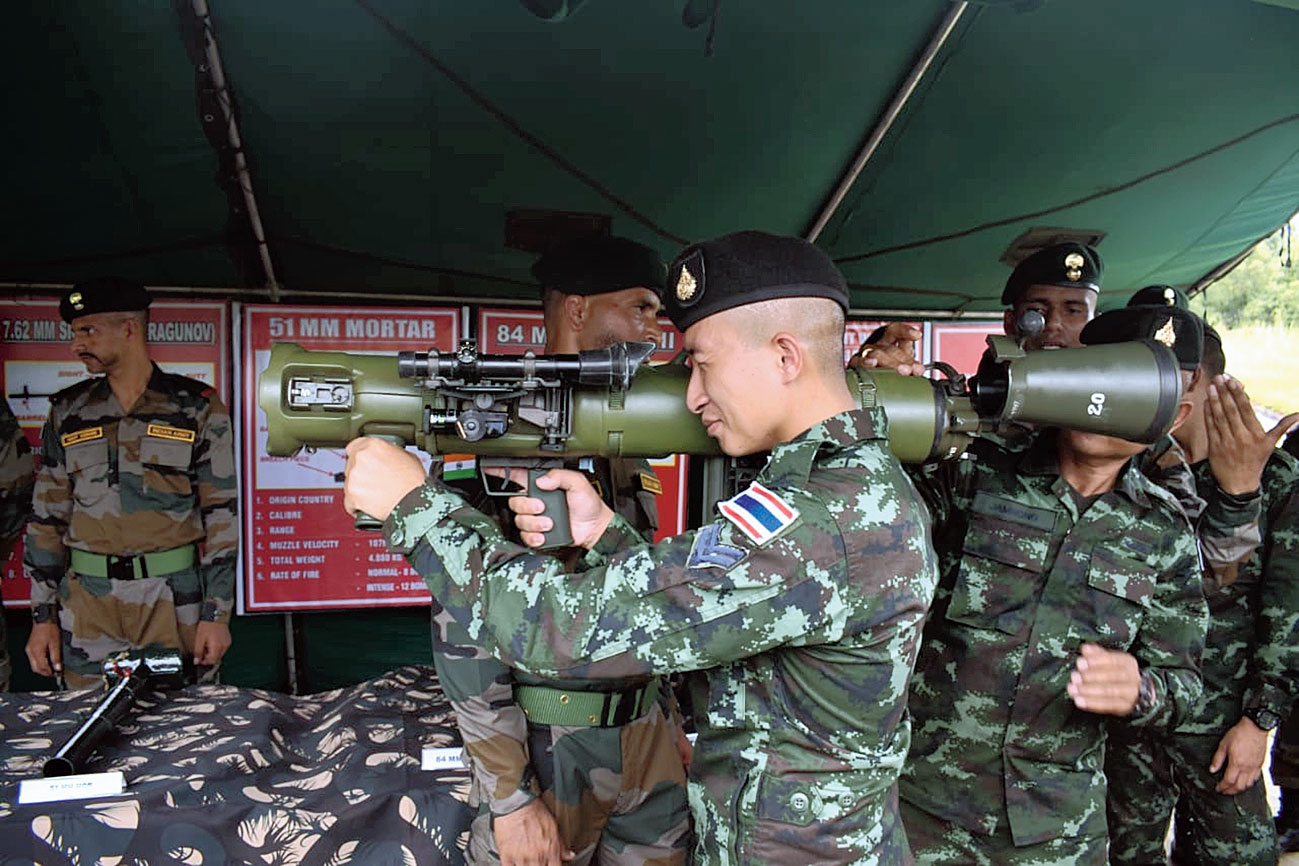 ---
---
A joint military exercise between the Indian and the Royal Thailand armies that focused on various operational strategies began at Joint Training Node at Umroi cantonment, about 30km from Shillong, in Meghalaya's Ri-Bhoi district, on Monday.
This is the 12th edition of Exercise Maitree and the first ever such initiative in Meghalaya.
The Indian troops and their Thai counterparts took part in the display of weapons at the event, which has been the face of long-standing bilateral ties between India and Thailand since 2006. The annual bilateral joint exercise aims to provide training to the troops in counter-terrorism operations in both jungle terrain and urban set-up.
Colonel Thiradej Limkunagul, from the 111 regiment of the Royal Thailand Army, led the 45-member troop, while Colonel Manish Joshi led the Indian soldiers.
The 14-day exercise will be conducted under the overarching framework of the United Nations Mandate, 2006. Both the contingents will be imparted training through lectures, drills, demonstrations and skill-at-arms to refine tactics, techniques and procedures.
The exercise will culminate with a 48-hour joint exercise, which will showcase the planning and execution of joint skills of soldiers. Colonel Limkunagul said: "Both the contingents have a long history of cordial relationship. We hope this bond will be strengthened in the years to come."
Defence public relations officer Wing Commander Ratnakar Singh said, "It is a great opportunity for the Indian Army to host their Thai counterpart in this joint exercise. Such training programmes enhance our capabilities and curb limitations. Both the troops will take away many things from this joint training."
Stating that the joint exercise is a normal military training which will include various tactical and strategies, Singh said, "The training offers a continuous process of learning. Learning from others hones our skills."