I told Atalji negotiating with a rebel group is like wooing a lady: Zoramthanga
The Mizoram CM is helping Delhi negotiate settlements with underground groups in the troubled Northeast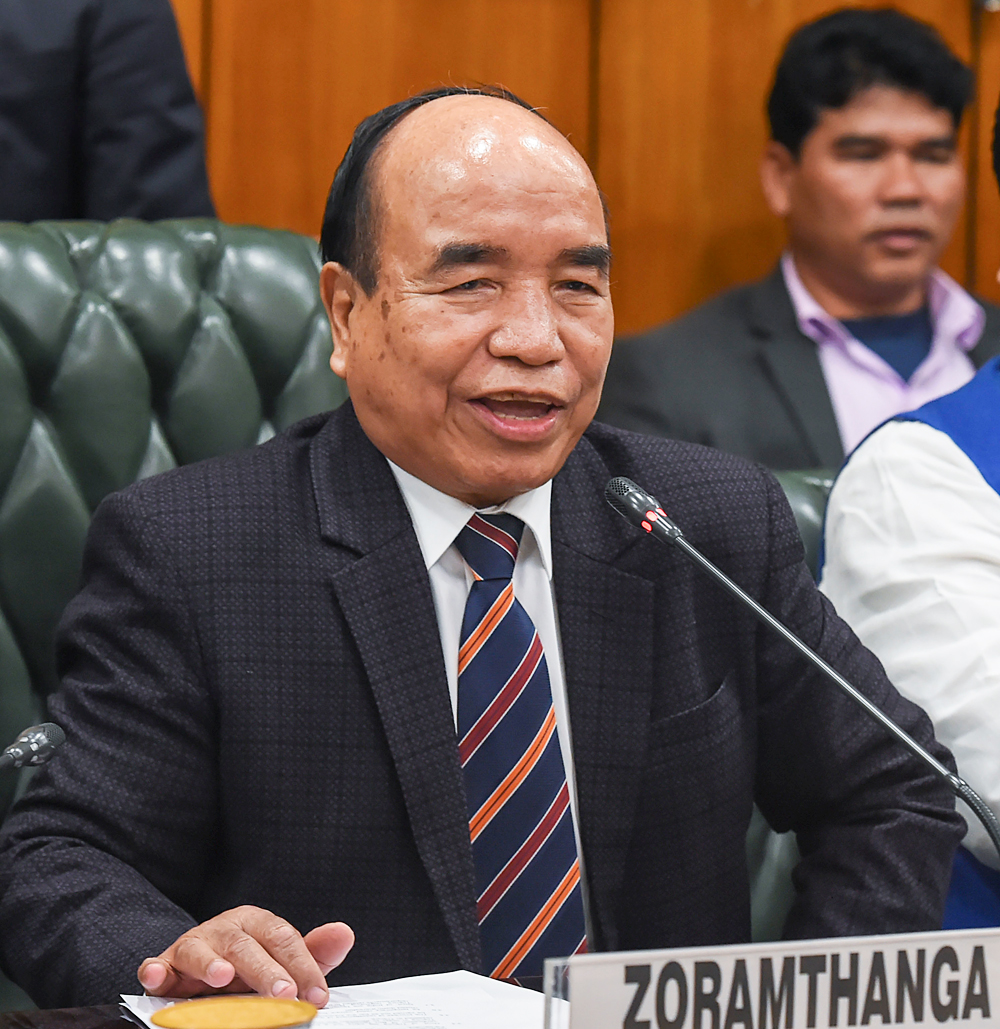 Mizoram CM Zoramthanga speaks during the signing of an agreement for permanent settlement of displaced Bru tribals in Tripura, in New Delhi.
(PTI)
---
Published 08.02.20, 07:37 PM
|
---
In 1986, Zoramthanga walked back from Chhimtalang, the then central headquarters of the outlawed Mizo National Front (MNF) deep inside Bangladesh's Chittagong Hill Tracts, with hundreds of MNF fighters to bid a farewell to arms. Then second-in-command to MNF supremo Laldenga, life has come full circle for this rebel leader in the last three decades. He served as the chief minister of Mizoram from December 1998 to December 2008, for two consecutive terms after being finance and education minister in Laldenga's ministry in1987. Having led the MNF back to power in 2018, Zoramthanga, now 75, is chief minister again.
From a rebel leader who fought India, you have turned peacemaker. Tell us about this transformation.
It was during the BJP's first term in power that I was chief minister. PM Atal Bihari Vajpayee had sent his emissary Swaraj Kaushal (husband of the late Sushma Swaraj) to meet the NSCN (National Socialist Council of Nagaland) leaders in Bangkok to carry forward negotiations. He came back and reported that the Naga problem was complex and not easy to resolve. At that point, Atalji asked me to speak to Muivah and Issac Swu of the NSCN. I went to Bangkok and convinced them to come to Delhi for negotiations. That was a breakthrough in itself because until then Muivah was insistent on talking to the Indian negotiators only outside India.
Vajpayee was very fond of you, isn't it?
You see, negotiating with a rebel group is like wooing a lady. When I said this, Atalji burst into laughter. I said you have to praise and understand the rebels and win their confidence. Just asking them about their demands won't help. They must be made to feel that the government is keen to fulfil their aspirations. The Naga talks have gone forward in the right direction despite the many complexities. Since the 2015 framework agreement, there is fresh momentum to reach a final settlement to resolve the Naga problem. I am hopeful that will happen soon and peace will return.
You are also involved in peacemaking with many other groups in the Northeast.
Yes, yes, there are so many underground groups representing different ethnic communities in the Northeast. Look at Manipur, our neighbouring state. There are Kuki rebel groups, Paite, Hmar and, of course, there are strong Meitei rebel groups. It has been my effort to bring as many of them to the table as possible. Modiji, like Atalji, has sought my help and I am eager to help his government achieve peace in the Northeast. When I went to Delhi recently, Modiji and home minister Amit Shah told me they were giving me some homework as I was the only leader in the Northeast whom they could trust to carry forward the peace process effectively. I was asked to set up as many rebel groups for talks as possible. I have been meeting many of these groups from across the Northeast and now I will try to get them to start negotiations with Delhi. I will do my best to help out the government because it is serious about bringing peace to the Northeast. We Mizos once fought for independence. Now it is my life's mission to bring peace here. Without peace, this region, including Mizoram, cannot develop.
Some say there can be no durable peace in the Northeast if the neighbouring highlands of Myanmar remain disturbed. There is a peace process in progress there and some say you have a role in that as well.
In 2009, several leaders of Myanmar rebel groups came to meet me in Aizawl to seek my advice on how to open a dialogue with the Myanmar government. They told me previous efforts to start a dialogue through Chinese and Japanese and even UN mediation had failed. I told them the Congress government in Delhi would not permit me to get involved in the Myanmar peace process. When the present NDA government came to power, they came back to me and I went to Myanmar. The Myanmar government welcomed me wholeheartedly and promised me all support including financial help to bring the underground groups to the table. With backing from the Myanmar Peace Center headed by Aung Min, I went to Bangkok and Chiang Mai in Thailand and met the leaders of the Myanmar underground groups many times. Then I gave a report to the Myanmar government. The Myanmar underground groups were keen to come to Delhi and learn from the Indian peace processes. Aung Min also felt the exposure would be useful. The ground for understanding was set.
Were you doing this on behalf of the Indian government?
Initially I was doing this in my personal capacity. National Security Advisor Ajit Doval, my old friend, encouraged me to set the stage for a formal Indian role in the Myanmar peace process but he refused to go there until a formal invitation was sent. He said, you make the way and we will go when we are invited. I told Aung Min and he promptly sent a letter to Doval. Then Doval and I flew to Bangkok first, to meet leaders of the Myanmar underground groups. Finally, we went to the Myanmar capital, Nayphidaw, in a home ministry plane to witness the formal signing of the nationwide ceasefire agreement between the Myanmar government and several ethnic rebel armies. He picked me up at Calcutta and we flew in.
That was during the government of General Thein Sein. What happened after Aung San Suu Kyi's National League for Democracy came to power?
The Myanmar peace process has been through many ups and downs. But I understand Suu Kyi's government is also keen to carry forward the peace process, get more groups to sign the ceasefire and then more fruitful negotiations. But Myanmar goes to elections this year and we have to wait until the results.
I am told that you have recently negotiated the release of a ruling NLD MP from rebel captivity?
Yes, this NLD MP was kidnapped by rebels of the Arakan Army. The Myanmar government was not sure if he was alive when they approached me. I got in touch with my friends in the Arakan Army and requested for his release. The MP was finally let off after 79 days and the Myanmar government expressed profound gratitude.
But the Arakan Army is disturbing the India-financed Kaladan Multimodal Transport Project, which seeks to connect Mizoram with the rest of India by sea through the port of Sittwe. They are kidnapping those working on the project.
The problem is with the present Indian contractor. He is at loggerheads with the Arakan Army. The project is stuck and cannot go forward in this way. So during my recent visit to Delhi, I asked the foreign minister [S. Jaishankar] to change the contractor. I had meetings with the foreign secretary also. Once that is done and a new contractor is finalised, I will manage the Arakan Army and there will be no disturbance. Everything will happen smoothly. We, in Mizoram, have a big stake in this project. As a state located between Bangladesh and Myanmar, we are keen on connectivity with our neighbours and, through them, the Indian mainland. Bangladesh is developing fast and Myanmar will also develop. They mean much to us.