I have given up everything for chess, even studies: Dhrupad Kashyap
Teen player and World Cup winner from Assam recounts his days of struggle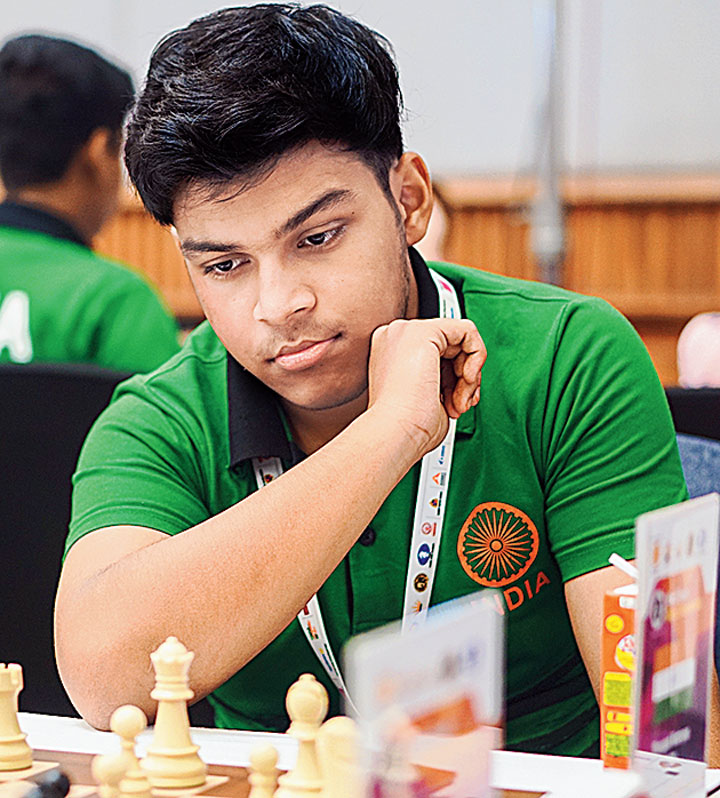 Dhrupad Kashyap
Telegraph Picture
---
Guwahati
|
Published 14.10.19, 06:38 PM
|
---
From playing amateur chess on computers to representing India in World Youth Chess Championships, Assam's promising player Dhrupad Kashyap has gone through ups and downs, but never caved in and today he is ready to forget everything for the love of the 32 pieces and 64 squares.
Kashyap, 14, a student of Sarala Birla Gyan Jyoti here, has 2000 Fide rating points under his belt, including 73 rating points he notched up finishing 25th in the World Youth Championships in Mumbai that ended on Saturday. He recounted his career in an interview with The Telegraph on the sidelines of the meet.
Excerpts:
Q: What inspired you to choose chess as a career?
A: I am not sure, I just liked it as a game. It all started when I used to play on my computer and then slowly I tried to approach it like it was my career. I was about seven at that time. The very next year I joined a club in my home city and hired some coaches and then it went on.
Q: Who is your role model — national and international?
A: There is no particular role model, but I admire some players like Magnus Carlson and Hikaru Nakamura. I really like watching them play. Nakamura plays awesome bullet games.
Q: Tell us about your journey as a chess player.
A: At first I really struggled. For the first two years, I did not get any Fide rating when I tried to play as a professional. Then I went to Bangkok and defeated a rated player despite not having any rating points and also drew with some good players. Then I got some 1500 rating points. Still I was struggling and I even came back to 1393 at one stage after which I improved. I had to work really hard as a result of which I reached this stage.
Q: Tell us about your coach.
A: I have been training in a club. There are two coaches — Nandan Buragohain and Biswajit Bharadwaj. My first coach is of course Y. Dhanabir Singh. He is from Manipur who shifted to Guwahati when I was in class II and I started working with him since then. He has brought me the world of modern chess. I am really thankful to him.
Q: Northeast is known for football, how did chess happen to you?
A: I also like football and am an avid follower. I love it. If I was not a chess player, I would have been a football player.
Q: Apart from chess, which sport do you like most?
A: I used to play a lot of games. I am not that good at them, of course. I can play table tennis. I used to play cricket till I was in class IV. Then I had to leave because I had taken up chess as my profession.
Q: Can you tell us about your training regime?
A: I am a very lazy guy. It cannot be more than three hours a day, but in those three hours I work pretty seriously. I play a lot of blitz games; not follow many books, I follow live games.
Q: How do you feel to be able to compete at this international level?
A: It is not my first time. I have played many international tournaments. I have been to Bangkok, Malaysia and Sri Lanka. It is a different feel in every tournament, but it has always been to perform the best in every tournament.
Q: If not playing chess, what do like to do the most?
A: I used to paint till I was in class V. But, I have left every other thing for chess, besides my studies.