House passes ILP resolution
The Assembly's special session was held specifically to pass the resolution on ILP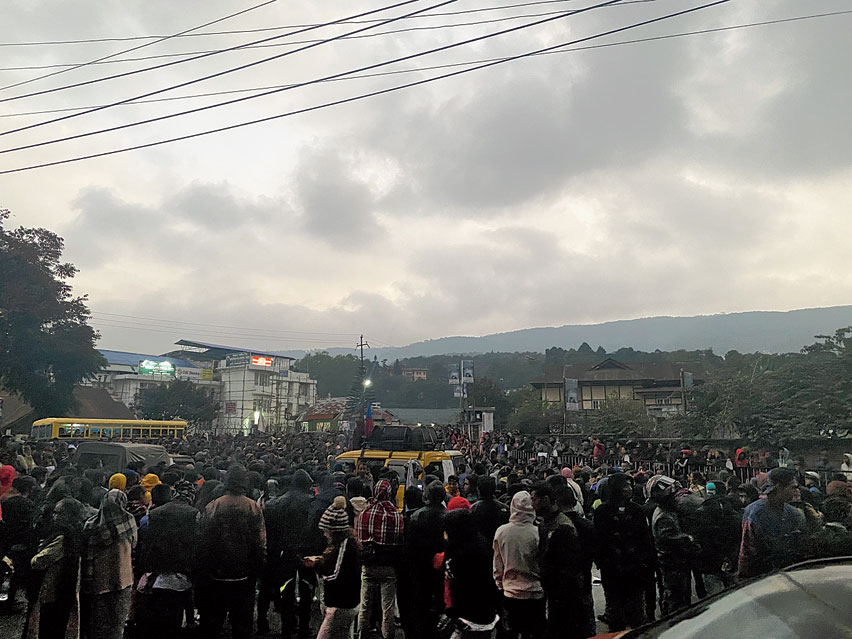 People gather in Shillong on Thursday as they wait for the passage of the ILP resolution in the Assembly
Picture by Andrew W. Lyngdoh
---
Shillong
|
Published 19.12.19, 09:53 PM
|
---
The Meghalaya Assembly on Thursday passed a resolution to urge the Centre to implement the inner-line permit (ILP) in the state under the Bengal Eastern Frontier Regulations, 1873, to safeguard the interests of the citizens of the state.
Speaker Metbah Lyngdoh put the resolution to vote and all members of the House supported through a voice vote.
The Assembly's special session was held specifically to pass the resolution on ILP.
The resolution was tabled by chief minister Conrad K. Sangma but it took time to pass as members of the House, especially from the Opposition Congress, engaged in long discussions focussing mainly on the Citizenship (Amendment) Act and its ramifications.
The Speaker also conveyed his support to the resolution and to members from both sides of the House. "The House has spoken in one voice on this very important government resolution and we stand united and committed to serve for the welfare and interest of the people of our state."
Section 2 of the Bengal Eastern Frontier Regulation 1873 provides for power to prescribe by notification "The Inner Line" prohibiting all citizens of India or any class of such citizens or any persons residing in or passing through such states from going beyond such a line without a pass.
Through this resolution, the Meghalaya government will urge the Centre to make necessary amendments to the said regulation for inclusion of the "state of Meghalaya" in the preamble to the Bengal Eastern Frontier Regulation, 1873.
"Although the Citizenship (Amendment) Act, 2019, has provided that it shall not apply to the tribal areas of Assam, Meghalaya, Mizoram or Tripura as included in the Sixth Schedule of the Constitution, this provision will not be adequate to protect and safeguard the interests of the tribal population of the state," the resolution said.
In his reply to the long discussion on the resolution, Conrad said the resolution on ILP passed by the Assembly will not go to Parliament, but the President may simply insert the word Meghalaya in the preamble of the regulation and issue a notification.
"As we speak in one voice and as we go together, it is not just the 60 legislators but 33 lakh people of Meghalaya," Conrad said.
Leader of the Opposition Mukul Sangma, while supporting the resolution, stressed that the Meghalaya Residents Safety and Security Act, 2016 should be implemented.
"We collectively say yes, but it is not enough. We have to work out more mechanisms in the future."