Hope comes with Spring as Manas National Park gets two rhinos
A source said Manas can get two more rhinos, which will come from Pobitora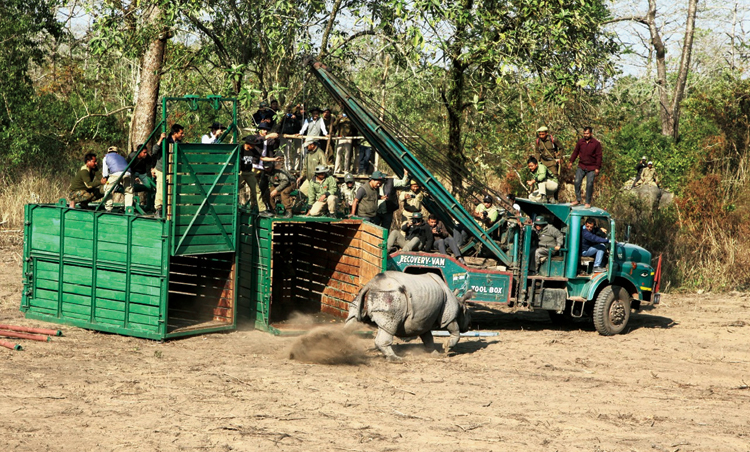 A rhino being released in Manas on Sunday.
Picture courtesy: Subhamoy Bhattacharya
---
Guwahati
|
Published 01.03.20, 06:43 PM
|
---
There is a spring of hope in the air for Manas, as the two rhinos that travelled overnight from Kaziranga reached their new home.
"We have named them Faguni, which is the current month in Assamese and Asha, which means hope," a senior park official told The Telegraph.
A forest official said the female rhinos were released in the central part of Bansbari range of Manas National Park in the wee hours. The rhinos were transported from Kaziranga National Park with strict security and veterinary surveillance according to protocol.
The convoy covered a distance of approximately 280km overnight to reach Manas around 2.30am on Sunday.
A total of 20 rhinos have been translocated to Manas under the Indian Rhino Vision 2020 programme till date.
The rhinos have been released under the supervision of experts.
All the operations for the release were conducted under the guidance of Anindya Swargowari, the council head of forests, BTC. The release operations started from around 7am and the rhinos were finally released into the wild around 8.15am.
Dipankar Ghose, the director of WWF India's Wildlife and Habitats programme, said, "The re-introduction of rhinos to Manas National Park is significant for establishing a viable population of this species in an additional protected area. As rhinos are indicators of healthy grassland ecosystems, a viable population in Manas National Park would mean a good habitat that would benefit other wildlife species."
'Translocation of rhinos is an important conservation measure in helping conserve the species. Translocating individuals from one area to another helps maintain genetic variability to an existing population. It also helps strengthen habitats, expand their distribution and reduce risk of disease, and in-breeding," another official said.
A source said Manas can get two more rhinos, which will come from Pobitora.
The translocated rhinos are ear notched for identification and monitoring.
"The Manas authorities have thanked all the people of Assam and the donors of the IRV 2020 programme as well as the governments of Bodoland, Assam and India for helping revive the rhino population in the park," a park official said.
Indian Rhino Vision (IRV) 2020 is a joint programme of the state forest department and Worldwide Fund for Nature India (WWF-India).
"It can be expected that rhinos translocation program at Manas will also contribute to the mixing of genes from individuals from Pobitora wildlife sanctuary and Kaziranga National Park populations and set up a healthy from and breeding population of rhinos for the future of the species. This has also contributed to overall development of park, including tourism and trans-boundary cooperation between India and Bhutan," a park official said.