Journalists raise voice against CAA
Many prominent journalists took part in a daylong protest, chanting slogans against CAA and the BJP government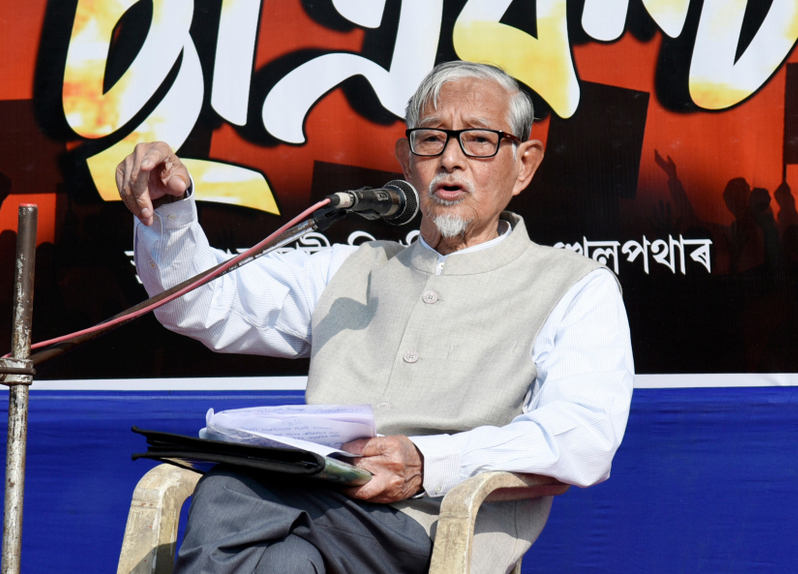 ---
Guwahati
|
Published 21.12.19, 07:17 PM
|
---
Noted intellectual Hiren Gohain equated the exclusion of Muslims from the purview of the Citizenship (Amendment) Act as a move similar to that of the pogrom against the Jews by Nazis in Germany during World War II.
Gohain was participating in an anti-CAA protest organised by the All Assam Journalists Union in front of Guwahati Press Club on Saturday.
"Journalists are supposed to be neutral but certain situations arise, like danger to the state, when they can no longer afford to remain so," Gohain said in his opening remarks.
He said, "The act has ignored people from one of the two major religions in the country. Although there are adherents of other religions, Hindus and Muslims are the main communities. CAA has completely ignored the Muslims and they are being turned into second class citizens. We have sympathy for persecuted people of all religions. Among Muslims, the Shias and Ahmaddiyas in Pakistan are persecuted but there is no provision for granting them citizenship. A situation is being created where Muslims are sidelined in favour of Hindus. This is similar to the pogrom against the Jews by Nazi Germans. First it was the Jew people, later the democrats and even the Church leaders were confined in concentration camps where inhuman conditions persisted, with people given two scraps of bread in a day. Eventually, 60 lakh people were gassed to death."
Gohain related an anecdote of a Christian pastor who was not concerned when the Jews were arrested or when the communists were marched off to Nazi concentration camps. When his turn came, the pastor realised that there was nobody to speak for him, drawing a parallel to the situation now. "If we condone the exclusion of Muslims now, as the government envisages in the act, the government will take it as a matter of course and go on to suppress other communities. The main tenet of the Constitution is equality, which should be protected at all costs," he said.
Many prominent journalists took part in the daylong protest, chanting slogans against CAA and the BJP government.