Sarma claims draw flak
Minister misinterpreted Assam Accord in House, alleges AASU, demands apology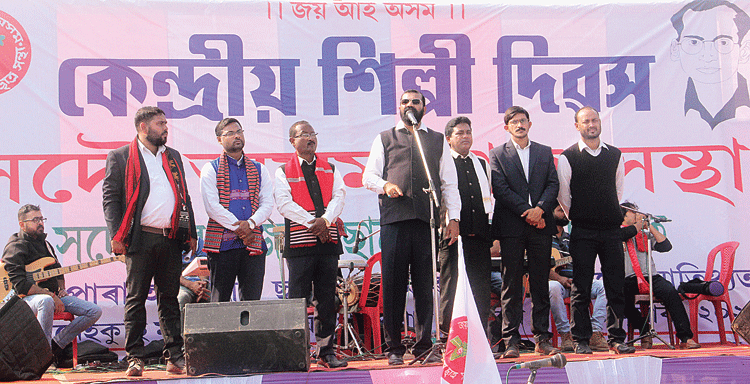 Samujjal Kumar Bhattacharjya addresses the gathering in Mangaldoi on Friday.
Picture by UB Photos
---
Guwahati
|
Published 17.01.20, 08:10 PM
|
---
The All Assam Students' Union (AASU) on Friday asked the state government to immediately hold a session of the Assembly to apologise for its alleged misinterpretation of the Assam Accord.
AASU, while observing Xilpi Diwas on the death anniversary of cultural icon Jyoti Prasad Agarwala in Darrang district, alleged that cabinet minister Himanta Biswa Sarma had on January 13 "misinterpreted the Accord in the Assembly, stating 1976 the cut-off year" for detection and deportation of illegal migrants.
"We request chief minister Sarbananda Sonowal and Sarma to study the Assam Accord. They should immediately hold an Assembly session and apologise to the people of the state," AASU chief adviser Samujjal Kumar Bhattacharjya said.
Besides AASU leaders, several cultural personalities who oppose the Citizenship Amendment Act, attended the Silpi Divas programme. They invoked the works of Agarwala to encourage people to build resistance against the CAA through "sustained, peaceful and democratic" movement.
According to Clause 5 of the Assam Accord, foreigners who came to the state after January 1, 1966, and March 24, 1971, shall be detected and their names deleted from the electoral rolls for 10 years. It also said foreigners who came to Assam on or after March 25, 1971, shall continue to be detected, deleted (names from electoral rolls) and expelled in accordance with law.
Bhattacharjya slammed Sonowal for raising doubts about the spontaneity of the anti-CAA movement.
"Sonowal said the Congress and the Left parties are behind the movement. We want to tell them that the love of Assamese people for their state and determination of indigenous people to protect their future keep the movement alive," he added.
Bhattacharjya also took a dig at Sarma.
"Sonowal criticises the Congress but those around him were once with the Congress. Sonowal himself had sought suggestions from Leftist intellectual Hiren Gohain to run the government. Do not ridicule and insult the non-violent movement of people. It is our warning to Sonowal, Sarma and their government," he said.
In June 2018, Sonowal had met Gohain, a vocal critic of the CAA, as part of the BJP's mass contact initiative.
Bhattacharjya said the people of Assam would have to decide their future course of action regarding the CAA.
"What will happen now? The answer is with the people. If you wake up the state will be safe, else it will turn into another Bangladesh," he added.
The AASU leader told students that they should not neglect their studies while taking part in the movement. "Students should continue to study and perform and at the same time they participate in the anti-CAA movement."