Gowda Assam flood aid appeal to Modi
51000 affected are living in 711 relief camps spread over 28 districts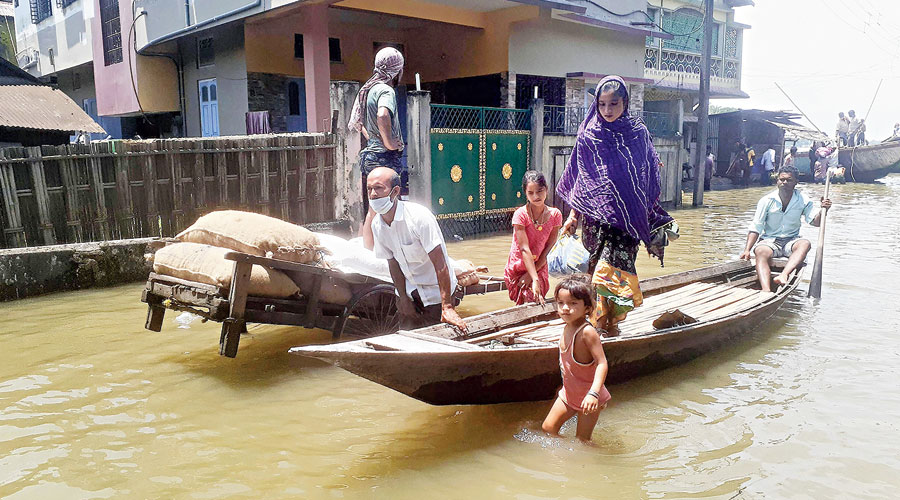 Flood-affected people move to a safer place in Assam's Dhubri district on Friday.
PTI
---
Guwahati
|
Published 18.07.20, 04:52 AM
|
---
A "deeply disturbed"  former Prime Minister H.D. Deve Gowda on Friday appealed to the Prime Minister Narendra Modi and the Centre to pay urgent attention to flood-hit Assam and offer the state maximum attention to tide over the crisis.
The ongoing flood has so far affected 30 of the 33 districts, nearly 53, 48,722 lakh people and left 76 dead since May 22.
Five people died in floods on Friday while 51000 affected are living in 711 relief camps spread over 28 districts. As on Friday, 1.28 lakh hectare cropland have been affected while most key rivers are flowing above danger level.
In his appeal to Modi, Gowda said that he was "deeply disturbed" by the flood reports from Assam, that the state has to "battle" floods and the deaths and displacement caused by it when the Covid-19 pandemic is raging across the nation.
"They are fighting on two fronts. I appeal to the Prime Minister and the Central government to pay urgent attention to the situation emerging in Assam, and offer maximum assistance to the state government," Gowda said in a tweet on Friday morning, tagging the PMO and the Assam CMO with the # Assam Needs Help.
The widespread devastation caused by the ongoing flood was also highlighted by the AASU chief adviser Samujjal Bhattacharjya while taking a subtle dig at the apparent indifference of mainland India towards the state's problems.
"Flood in Assam has triggered widespread devastation. Innumerable affected. Kaziranga National Park is submerged. Ironically, Assam's rich heritage & resources are National but the adversities aren't! #NorthEastMatters #AssamIsDrowning #AssamFloods2020 #AssamNeedsHelp #PrayForAssam," Bhattacharjya tweeted.
Chief Minister Sarbananda Sonowal, after a stock-taking trip to Kaziranga National Park, said on Thursday that Assam was simultaneously fighting Covid-19, flood and erosion but exuded confidence to tide over the crises with the cooperation of the people.
According to the chief minister's office, the Prime Minister had on July 3 called Sonowal to take stock of the flood situation and assured all possible support to fight flood, erosion and Covid-19.
Later, a PMO tweet said Modi sanctioned Rs 2 lakh each to those who died in the floods.
Arsenal support
Premier League club Arsenal FC in an Instagram video on Friday evening also extended support to flood-hit Assam, with a message
"We are with you" in English followed by its Assamese translation "aami aasu apunalukor logot". It also had a comment that said "Stay strong, Assam".
The video was later tweeted by AASU adviser Bhattacharjya: "@Arsenal FC is among the top flight of English football playing in @premierleague. Commendable that they recognise the flood induced devastation in Assam & stand by us. It is disheartening that the Govt still turns a blind eye, like EVERY TIME."