Gold for girl who 'lives & breathes judo'
The strongly built judoka said she felt she 'was meant to compete as an athlete'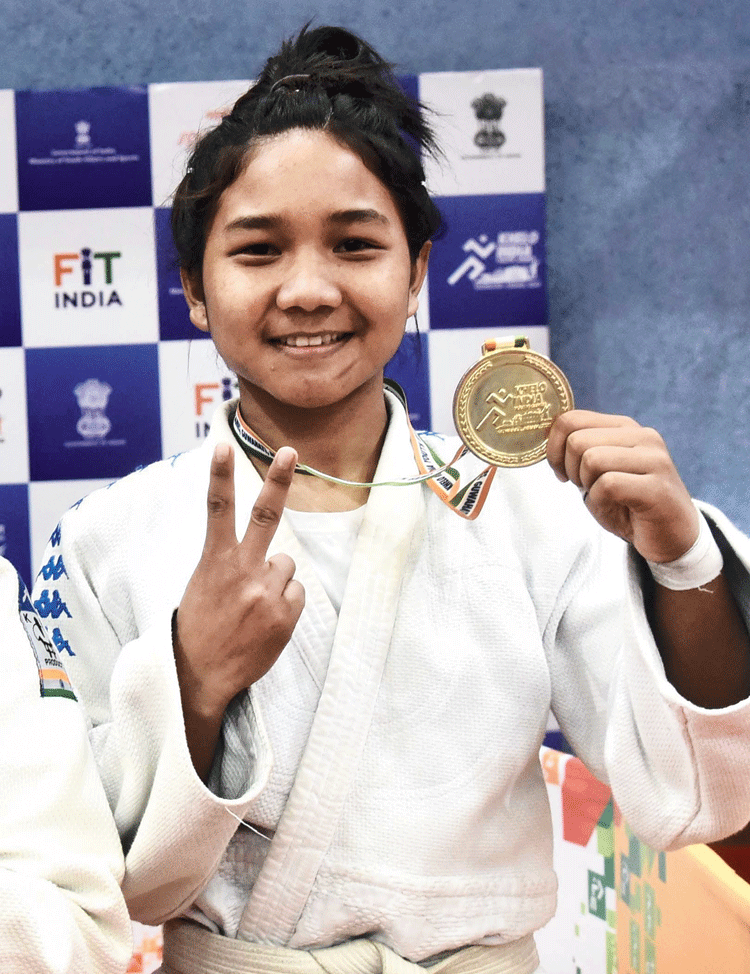 ---
|
Guwahati
|
Published 13.01.20, 07:14 PM
---
Assam, the host of the 3rd edition of the Khelo India Youth Games, was still struggling for a gold till a girl from Karbi Anglong came along to provide the home state its first gold in under-17 judo girls' 57kg category.
It was the judo outfit that attracted 17-year-old Puja Basumatary when she had to chose between judo and wrestling as a kid. And then there was no looking back for her.
Her judo journey began when she first went to see her brother, a national-level wrestler, participate in a local competition.
The strongly built judoka said she felt she "was meant to compete as an athlete" when she looked at the wrestling and judo matches.
In early 2015, it was her brother who gave her the chance to choose between wrestling and judo, and, Puja says, she chose judo because "she didn't like the wrestling costume, and preferred the judo dress".
And thus, a sport that Puja chose to take up by chance became her obsession. According to her Khelo India national camp coach and former Arjuna Awardee Yashpal Solanki, the 17-year-old "eats, breathes, lives judo" and "watching her walk into the judo arena is like seeing a viewer watch her favourite movie".
Puja, who started competing professionally in 2018, has become one of the most promising judokas in the country. At present, she trains at the Khelo India national camp in Bhopal under Solanki, who is already expecting her to compete with other senior-level athletes in the country.
"Having already become the best player in youth nationals last year, currently Puja is one of the finest judo athletes in the country, and with the calibre that she possesses, I expect her to become the number one in the senior category in India by the end of this year," said Solanki.
Puja said she uses a different approach when looking forward to big competitions and "doesn't focus on winning the competition," but "wants to just beat the judoka who is in front of me on the mat".
"I am always ready to fight and just aim to apply my technique and beat my opponent. My coach keeps telling me to calm down during matches but I have only one goal in mind — to win," she said.
Having won Assam's first gold medal at the Khelo India Youth Games, it won't be long before we hear that Puja has won many more medals for her state and her country.
"I have always believed in her capabilities and I think she has the talent and the physique to be an Olympian for India one day," said Solanki.
While Puja, the daughter of a cab driver, who has her family's backing to continue working her way up the ladder in judo, the "only aim is to become the number one in India and be among the top-10 athletes in the world".