Gogoi questions Sarma stand
Gogoi slammed the BJP for 'trying to build a consensus' over the Citizenship bill's passage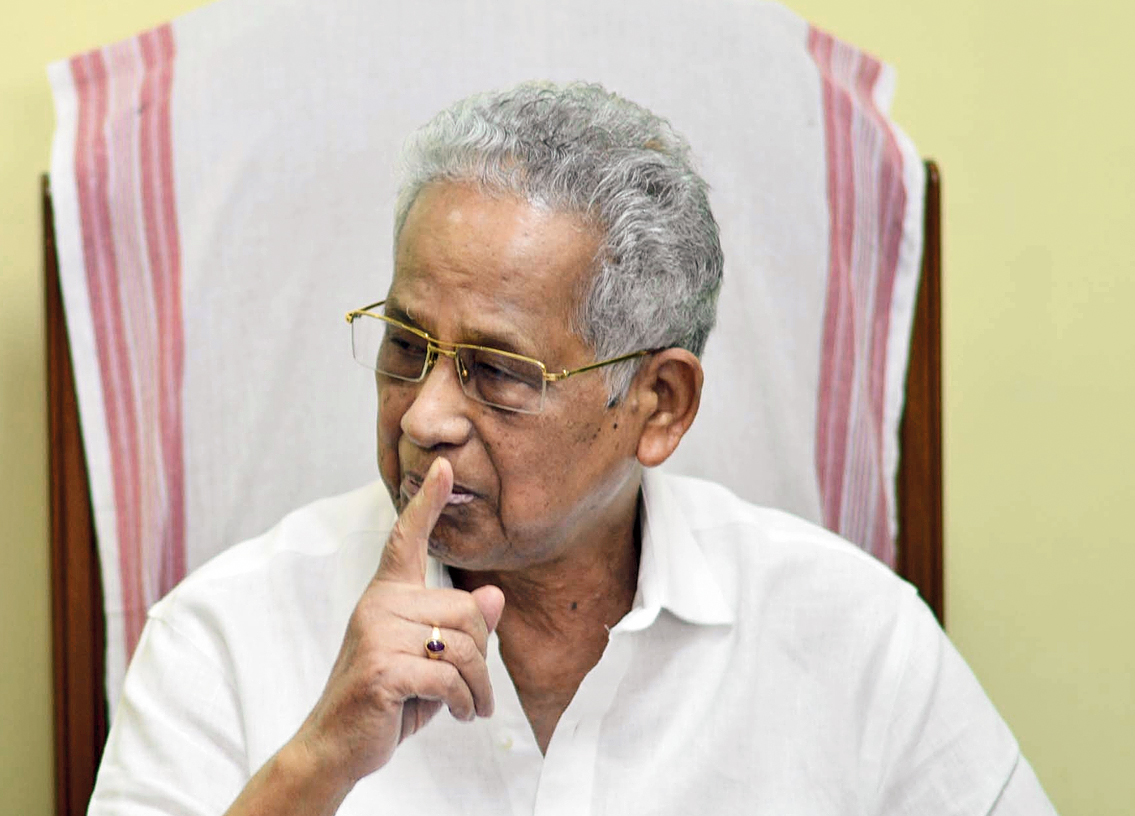 Tarun Gogoi in Guwahati on Wednesday.
Picture by UB Photos
---
Guwahati
|
Published 25.09.19, 07:22 PM
|
---
Former Assam chief minister Tarun Gogoi on Wednesday said state cabinet minister Himanta Biswa Sarma has no right to talk about rejecting the Supreme Court-monitored National Register of Citizens (NRC).
Gogoi was referring to Sarma's reported comment in a meeting at Bengali-dominated Barak Valley on Monday that the BJP did not accept the NRC and would intimate the Supreme Court about its rejection. Sarma said the NRC is not a jatiyo dolil (national document) and a countrywide register will be prepared once the Citizenship (Amendment) Bill is passed by Parliament.
"First, the bill should be passed. Only then NRC for the entire nation can be prepared. Why Indians need to produce documents to establish their citizenship?" Sarma asked.
He described the NRC published on August 31 as the "first show", adding that the "actual picture is still far away".
"Those who are elated to find their names in the NRC published recently, I'd like to tell them that this is the first show only. Those who were heroes in the first show could be villain in the second one or vice versa," he added.
"Who is Sarma to reject the NRC? Only the Centre can do it. But it is not that easy," Gogoi said adding that the Congress wants to "correct the register and not reject it".
Gogoi slammed the BJP for "trying to build a consensus" over the bill's passage. He said the bill will indirectly nullify the NRC, prepared at Rs 1,600 crore with arduous work by a large number of staff.
Sarma also said the BJP was about to table the bill in Parliament in November. BJP president Amit Shah during his recent visit to Guwahati also made it clear that the bill was still in the party's agenda.
"If you (BJP) were determined to bring the bill why did you waste so much money? Through citizen bill you will reject the Assam Accord that set March 24, 1971, as the cut off date for detection and deportation of illegal migrants," Gogoi said.
Gogoi said through the bill, the BJP is welcoming people from other countries, while innumerable people in the state are landless and unemployed.