Gauhati University English department's MPhil, PhD aspirants allege anomaly in list
GU-RET coordinator Madhurjya Prasad Bora declined to comment and referred to the highest authority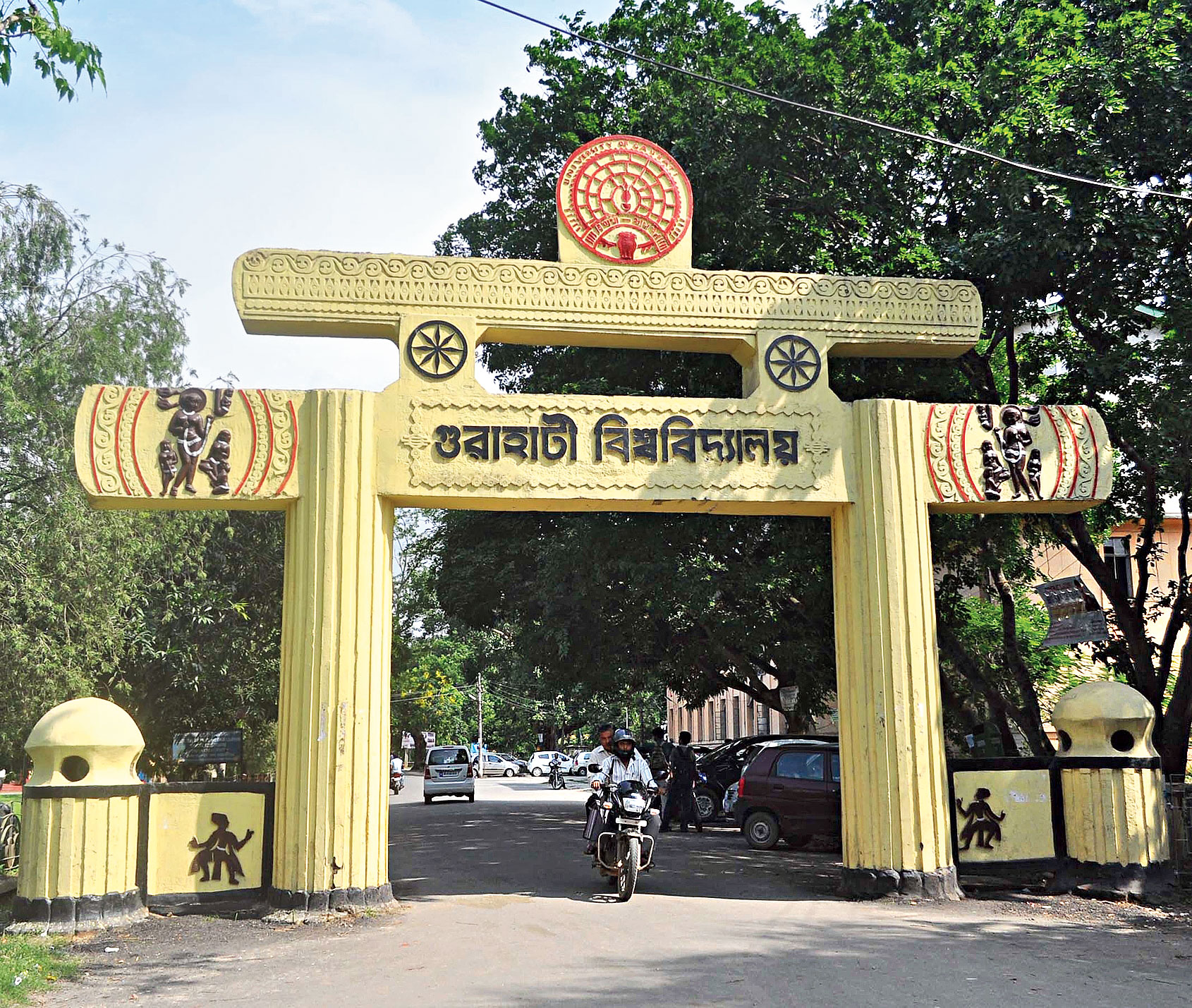 Gauhati University
Telegraph picture
---
Guwahati
|
Published 20.08.19, 09:14 PM
|
---
MPhil/PhD candidates have alleged anomalies in Gauhati University English department's selection list.
"The MPhil/PhD selection list of Gauhati University's English department is prepared on 20 marks while those all other departments is prepared on 120 marks," an applicant alleged.
Expressing displeasure over the English department's alleged non-adherence to GU-RET (GU Research Eligibility Test) process, the applicant said, "If the final list were to be prepared only on the basis of 20 marks, what was the use of conducting a 100-mark MCQ test? The department should clarify this."
GU-RET 2019 was conducted in two phases on July 6 — MCQ test of 100 marks, which was conducted for the first time, and a 20-mark counselling, comprising descriptive test and interview, for MCQ-qualified candidates.
GU English department head Asha Kuthari Chaudhuri said, "The academic registrar was informed about our system. More than 120 candidates qualified in the MCQ this year. Selection was further made on the basis of how well they wrote their research proposals and answered descriptive-type questions of 15 marks. The most crucial part was the 5-mark interview. We have to understand that, especially for PhD, we have to look for the right script on whatever area the students want to work on."
A list of 182 qualified and 8 exempted PhD candidates and 138 qualified and 3 exempted MPhil candidates was published by the department after the completion of MCQ tests. Of these, 29 qualified and 8 exempted, and 32 qualified and 3 exempted candidates were called for PhD and MPhil counselling respectively.
The English department had earlier notified that PhD and MPhil applicants securing 40 and above marks in GU-RET (35 for reserved categories in case of MPhil) would be called for counselling.
According to the GU website on Tuesday, 10 and 11 candidates had been selected for PhD and MPhil respectively in the English department's final list. The final merit list for GU PhD/MPhil was published on August 15.
"We took into consideration MCQ, descriptive and interview marks while preparing the selection list. It is difficult to explain, so one must contact the GU-RET coordinator for further clarification," Chaudhuri said.
GU-RET coordinator Madhurjya Prasad Bora declined to comment and referred to the highest authority.
Gauhati University vice-chancellor Mridul Hazarika said, "The assessment procedure for GU-RET is different department-wise. The English department assessed on the basis of 20 marks after the candidates qualified in the 100-mark MCQ test. The components of English department is different. Its assessment pattern is not shown but must be taken into consideration."
Another applicant's relative said, "The PhD/MPhil selection list of all departments except English is prepared on 120 marks and the marks of their candidates range from 40 to 70 while the highest marks for English department's PhD and MPhil selection list is 14.4 and 12.4 respectively. If the assessment pattern for the English department was different, then the authority should have notified earlier it on the website."
Another applicant said, "TheEnglish department's assessment pattern and marks from all the three phases must be clarified in the public domain. Moreover, if the English department's pattern is different because it is a literature subject, then it should have been the same with Assamese, Sanskrit, Hindi, Bengali and Boro, which is not so."
The head of Assamese department, Bibha Bharali, said, "We have assessed the marks for PhD and MPhil candidates on 120. According to GU-RET, one has to follow this pattern. No one can assess on the basis of either counselling or MCQ. But some departments may not conduct counselling, in which case the marks will be assessed on 100." She said no notification had been issued for a separate assessment pattern for literature subjects.