Fulfil poll promises, Assam Muslim body tells BJP
Indigenous Muslims of Assam slam citizen bill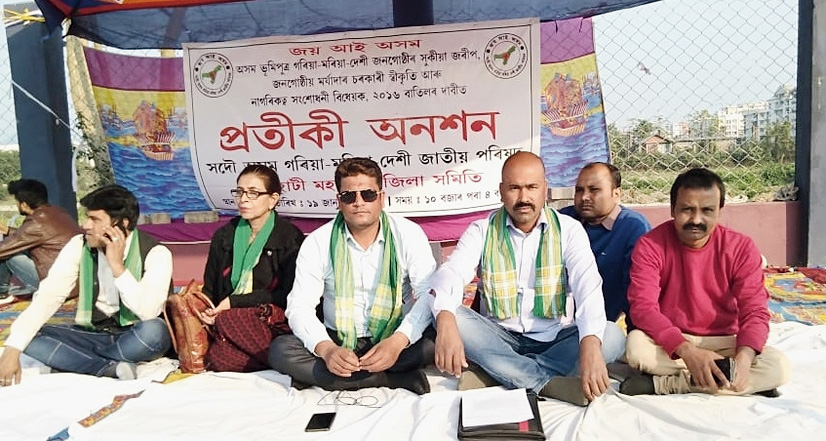 ---
|
Guwahati
|
Published 19.01.19, 07:15 PM
---
Sadou Asom Goria-Moria-Deshi Jatiya Parishad (SAGMDJP), a forum which represents the indigenous Muslims of Assam, has slammed the BJP government for bringing the controversial Citizenship (Amendment) Bill 2019 and also for failing to keep the promises it made before the elections.
SAGMDJP staged a daylong hunger strike across the state and also submitted a memorandum to chief minister Sarbananda Sonowal in this regard.
"We strongly oppose the Citizenship (Amendment) Bill which will bring disturbances in the state by inviting the Bangladeshi people. The BJP government had promised us that our state will be free of illegal citizens but after winning the elections, they are doing just the opposite. We condemn the BJP-led government for their anti-state work," said Ismail Ali, vice- president of SAGMDJP's Guwahati unit.
The bill, which endorses citizenship for the Hindus, Christians, Sikhs, Jains and Parsis who have faced religious persecution in Bangladesh, Pakistan and Afghanistan, has faced opposition in Assam and all the northeastern states. However, a section of people in Assam's Barak Valley and Tripura support the legislation. Most of the groups and organisations opposing the bill agree to March 24, 1971 as the cut-off date to identify and detect foreigners, irrespective of their religion, caste and creed.
Ali said that the BJP had promised that there would be separate mappings to find out the indigenous Muslims population and ST status for them but so far nothing has been done in that regard.
"The indigenous Muslims have been here for ages. Many of them have converted to Islam from Hinduism. So we must be treated like other indigenous people. We may practice Islam but we belong to this land. The government must understand this," he said.
The protesters alleged that many members of their community have been harassed by the police and administration by tagging them D (doubtful) voters just because of their name.