Fresh protests at blowout site in Baghjan in Assam
Talks on compensation between local residents and Tinsukia administration fail to make headway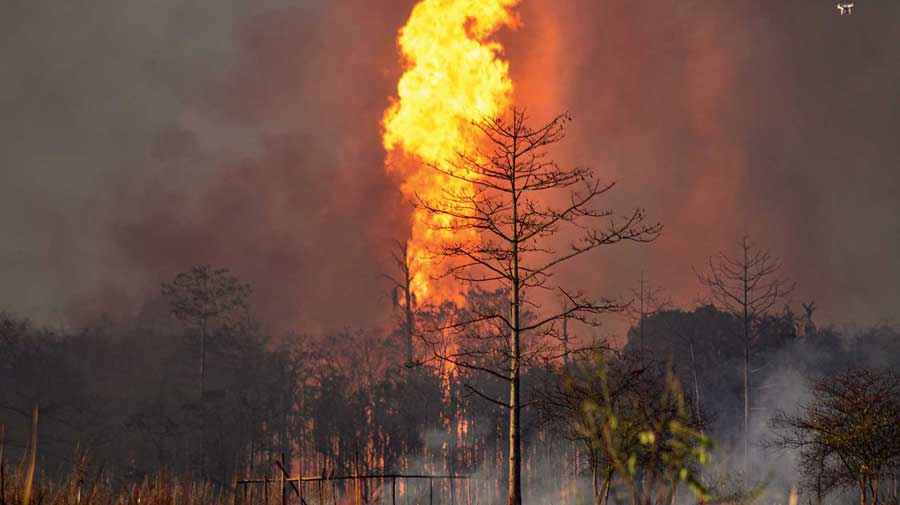 ---
|
Guwahati
|
Published 08.07.20, 02:50 AM
---
Protests resumed at Baghjan in Assam, the site of the May 27 gas well blowout, on Tuesday after talks on compensation between the local residents and the Tinsukia district administration failed to make headway on Monday.
The Tinsukia district administration, tasked with assessing the damage caused by the blowout and the subsequent fire on June 9, was compelled to send a senior official on Tuesday to hold fresh talks with the protesters.
Following the hour-long interaction, the official assured the protesters that Rs 20 lakh would be deposited in the bank accounts to those who have lost their homes in the fire, Rs 30,000 paid as immediate cash relief to those who have not yet received any aid and the assessment process expedited.
Satyajit Moran, a representative of the affected locals, said they would continue the protest till these assurances are met but will not disrupt OIL's activities.
"We are satisfied with the outcome but our protest will continue till they fulfil their commitment within a week or 10 days," he said.
Locals had temporarily suspended their protest 15 days ago following similar assurances, Moran said.
Hundreds of those affected by the fire staged a protest from 11am, carrying placards seeking justice, proper compensation, protection of Baghjan and Dibru Saikhowa National park, about 500m from the gas well operated by Oil India Limited.
While 25 residents lost their homes in the fire, most of them lost their livelihood as fishermen, farmers and small tea growers, following the pollution caused by the blowout.
"There has been loss of livelihood and property and the huge damage to the ecology. Pollution level is still high. The well is still spewing gas and condensate. People are still in relief camps," another representative, Hemanta Barman, said from Baghjan, 530km east of Guwahati.
An OIL official said they are committed to compensating the affected people and restoring the ecology. The company on Monday appointed the son and widow of two OIL fire-fighters who died battling the blaze at Baghjan.