Ex-HNLC leader killed in botched operation: Report
Inquiry commission's finding was tabled by chief minister Conrad Sangma in state Assembly on Friday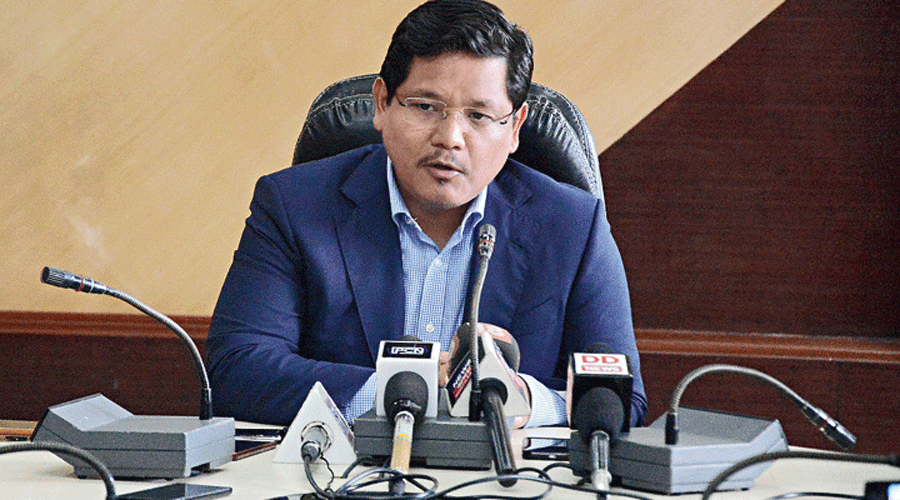 Conrad Sangma.
File photo
---
Guwahati
|
Published 11.09.22, 12:45 AM
|
---
The one-man inquiry commission that probed the death of former Hynniewtrep National Liberation Council (HNLC) general secretary Cheristerfield Thangkhiew has found "thoughtless and excessive use of force" to nab the deceased from his Shillong residence during an operation carried out by a Meghalaya Police team in August last year.
The report of the commission was tabled by chief minister Conrad Sangma in the state Assembly on Friday, triggering a protest in Shillong seeking justice for the deceased rebel leader.
Justice T. Vaiphei's one-man commission, in its 30-page report which included its recommendations, said: "Therefore, my finding is that the Tactical Team-I in carrying out the Operation to arrest the deceased at his residence on 13.8.2021 at about 3am was culpable of thoughtless and excessive use of force, which resulted in the death of the deceased, late Cheristerfield Thangkhiew, which turned out to be avoidable."
The death of the rebel leader of the proscribed HNLC had caused widespread protests and disruption of normal life in Meghalaya's capital Shillong last year, prompting the state government to constitute the one-man commission of inquiry on August 20.
The report further said that the "forced entry" into the house of the deceased in darkness and the subsequent killing of the deceased was a "reckless exercise" and tantamount to the disproportionate use of force, which resulted in the death of the deceased.
"This apparently defeated the very purpose of launching the operation, namely, to capture him alive. The deceased was never apprehended alive; it was thus a futile exercise. Had they waited for about 2 hours or so to let the daylight emerge, cordoned off the house of the deceased (as they actually did it here) in the meantime and lobbed teargas grenades into the rooms occupied by the deceased and his family, they could have been forced to come out of the house; the deceased could have been easily apprehended by this means. In this way, the safety of the other innocent members of the family of the deceased could also be ensured," the report of the commission said.
The commission further said that the "post facto excuse" that none but the deceased was hurt cannot be a valid justification for carrying out the operation hastily and in a reckless manner by the Tactical Team-I of the Meghalaya Police which was involved in the operation to nab him.
The family of the former rebel leader, who was reportedly ailing for some time before his death, has demanded of the Meghalaya government to register cases against those involved and also hand over the case to the CBI.
The protest held after the tabling of the probe report was led by leaders and members of the Ka Sur Ka Bri U Hynniewtep (Voice of the People of the Hynniewtep Land) from 11am to around 2pm.