It's a poignant tale of two families from diverse districts of Assam living in separate detention centres but bound in suffering wrought by the battle over influx and the need to establish their Indian identity.
It has been just two months since Kumud Ram Das, 66, returned home on a Gauhati High Court bail after spending over two years in the detention camp housed on the Silchar Central Jail premises.
A farmer from Mohankhal village in Sonai area of Cachar district, Das was arrested in December 2016 and lodged in the camp after being declared a "foreigner" by a foreigners tribunal.
Das, because of his "foreigner" tag, will not be able to exercise his franchise in this Lok Sabha elections, although he had regularly cast his vote till the 2016 Assam Assembly polls.
"My name is enlisted in the 1971 and 1989 voter lists. I am not the person the foreigners tribunal officials are looking for. But still I was arrested and sent to the camp. It feels good to be back to my family but I am not relieved as my case is still pending in the high court," Das said.
The notice based on which Das was arrested had the name of one Kumud Chandra Roy as a D-voter but it was allegedly changed to Kumud Das by the officials who served the notice to his family.
Das's family spent over Rs 2 lakh to re-establish his identity and assert that he is an Indian citizen through various legal procedures. They sold their cattle, land and crops, mortgaged their trees and took a bank loan of Rs 50,000 to get Das released from the camp.
"We had no money to buy groceries after my husband was arrested. I have two daughters, Jaya, 37, and Jhuma, 22 and a son, Kishan, 19. Kishan, a daily wager, is the sole breadwinner of the family. He earns Rs 180 a day. We also have to pay the loan instalment of Rs 580 per week. Meeting my husband at the camp was also expensive as the guards used to charge anything between Rs 50 and Rs 100 to let us meet him for a few minutes," Das's wife, Kamakhya Debi, 60, said.
Some charitable organisations have helped the family repay the loan, find legal support and arrange the bail money.
Das said he had to share a 30ftx40ft room with 40 other inmates, including women, at the camp. "It was so crowded that I couldn't even stretch my legs while sleeping. We were served tea and roti at 6am, rice and some vegetables around noon and another meal at 5pm. We had nothing to do all day. We were not allowed to work like prisoners," he said.
Jail inmates earn Rs 55 a day for unskilled and Rs 75 a day for skilled labour but detention camp inmates are not allowed to work.
Like other detainees, Das was given a bedsheet and a mosquito net at the camp. He was allowed to meet his family once or twice a month and lawyers only after obtaining the jail superintendent's permission.
Sources in the Silchar camp, however, said male and female detainees stay separately. There is a school on the jail premises where minors are provided education and the prison's registered doctor offers regular health check-up to the inmates.
While Das lost his right of suffrage, the daughters of Dilip Biswas, a ghugni-seller from Murkata village in Morigaon district whose family was declared "foreigner", lost their right to education.
In 2010, Biswas, 47, and his elder brother Sukumar were sent to the Goalpara detention camp while his wife Rumani, 40, and two daughters, Kalpana and Archana, now 19 and 11 respectively, were sent to the Kokrajhar detention camp, housed on Kokrajhar jail premises.
The family was released following a high court order in February this year.
Rumani said, "I used to feed my daughters from my meal at the camp. There wasn't sufficient food for all of us. My younger daughter was just two when we were taken to the Kokrajhar detention camp. My daughters were raised alongside prisoners. The rooms were crowded and there wasn't enough bedding for all of us, especially during winter. My husband was in the Goalpara camp. It was difficult spending each day at the camp and very difficult for me to raise my children on my own in that environment."
She added, "There was no arrangement for education at the camp for my elder daughter, who was then in Class III, because of her foreigner tag. So she could not continue her education. The tag might become a hindrance to her marriage too. I was pregnant with my younger one when our case was referred to the tribunal. So she was not tagged a foreigner and could join the school on the jail premises. She studies in class VI now. My daughters face an uncertain future."
Both Das and the Biswas family are out on bail, still bear the "foreigner" tag and have their cases pending in the high court. Besides, both families are experiencing ostracism by neighbours after being released from camps. They are struggling to resume work and mostly depend on social organisations and support from good Samaritans.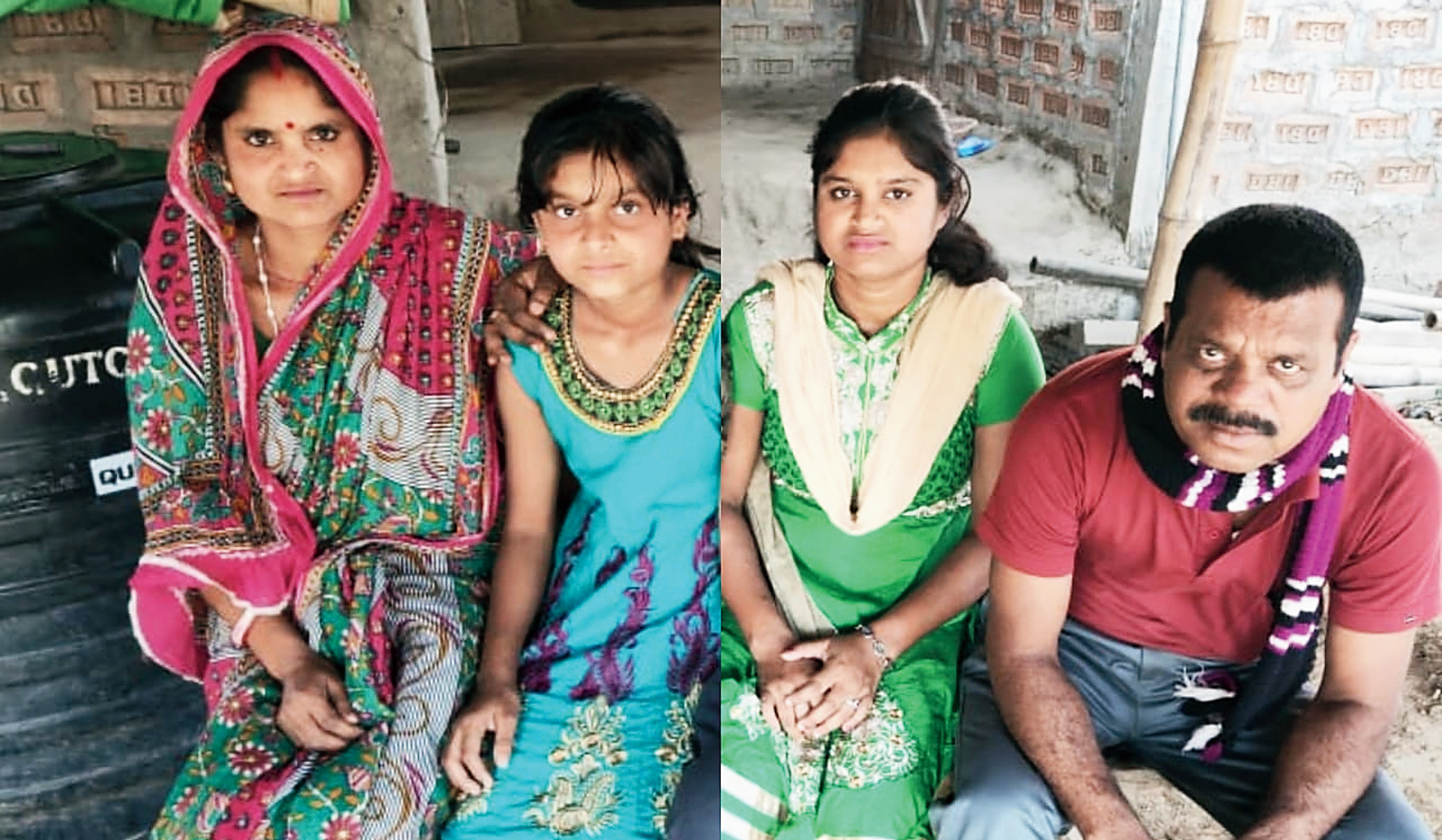 Dilip and Rumani Biswas with their daughters. The Telegraph picture