Families of Assam Agitation martyrs return BJP govt's awards
Families outraged as they feel the BJP has no respect for martyrs who died to free the state of illegal migrants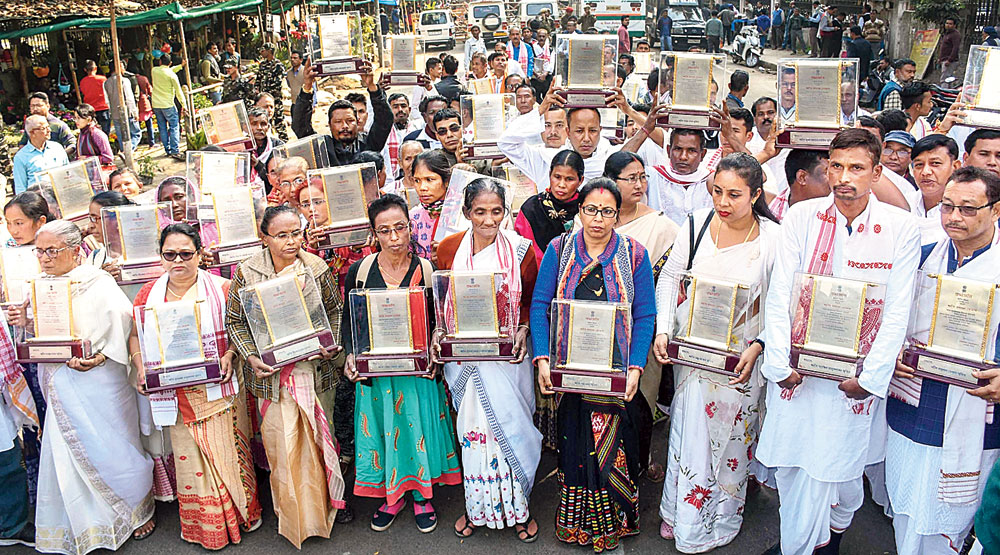 Family members of Assam Agitation martyrs in Guwahati on Wednesday with the mementos gifted to them by the state government.
(PTI)
---
Guwahati
|
Published 30.01.19, 06:52 PM
|
---
The families of the martyrs of Assam Agitation have returned the awards which were given to them as a mark of honour by the BJP government in 2016. They said they felt "insulted" when the BJP-led government decided to go ahead with the Citizenship (Amendment) Bill, 2019.
"It's enough. We have realised that the BJP government, led by chief minister Sarbananda Sonowal, has no intention of withdrawing the bill, but is more focused on passing it. Under such circumstances, we cannot sit silently. They (the government) have no respect for the martyrs who sacrificed their lives to make the state free of illegal migrants," said Chandrakanta Talukdar, younger brother of Khargeswar Talukdar — the first martyr among the 855 who died in the six-year Assam Agitation that started in 1979 .
The Assam Accord was signed after the agitation in 1985, which fixed March 25 of 1971 as the cut-off date irrespective of religion, caste and creed. The groups and organisations, who have been opposing the bill unanimously, agreed to this cut-off date.
Talukdar, the general secretary of Sadou Asom Jatiya Swahid Pariyal Somonnorokhyi Parishad (All Assam Martyrs' Families Coordination Council), said on Wednesday that 76 families of the martyrs have returned their mementos to the deputy commissioner's office here.
"As members of the central committee of the council and district representatives, we have returned the mementos. Gradually, the other families will follow suit across the state," Talukdar said.
The council's president, Rajen Deka, was also present during the event. 
The family members of the martyrs will also take part in the agitation. Deka said they had already written to Union home minister Rajnath Singh.
"We waited thinking that Sonowal would strongly oppose the bill. But it is sad to see his weak stand and silence over the matter. We have already sent a memorandum to him, demanding a discussion with us. But that did not happen. Very soon, we will go to Delhi to meet the top leaders and ministers," he said.
The AGP, which is an outcome of the agitation, too, supported the cause of the family members. "We are with them. It is very unfortunate that the government has not understood the value of their sacrifice. We are with families of the martyrs at every step," said AGP president Atul Bora outside the Assembly.
Just after coming to power, the BJP-led Assam government had decided to honour the families of the martyrs on December 10 in 2016 with a grand reception at Khanapara.
The bill seeks to grant Indian citizenship to Hindus, Sikhs, Buddhists, Jains, Parsis and Christians from Afghanistan, Bangladesh and Pakistan who entered India before December 31, 2014, due to religious persecution even if they do not provide the required documents.