Ensure fair NRC hearing, says Supreme Court
Court stressed that though the NRC process must be completed by July 31, principles of natural justice cannot be ignored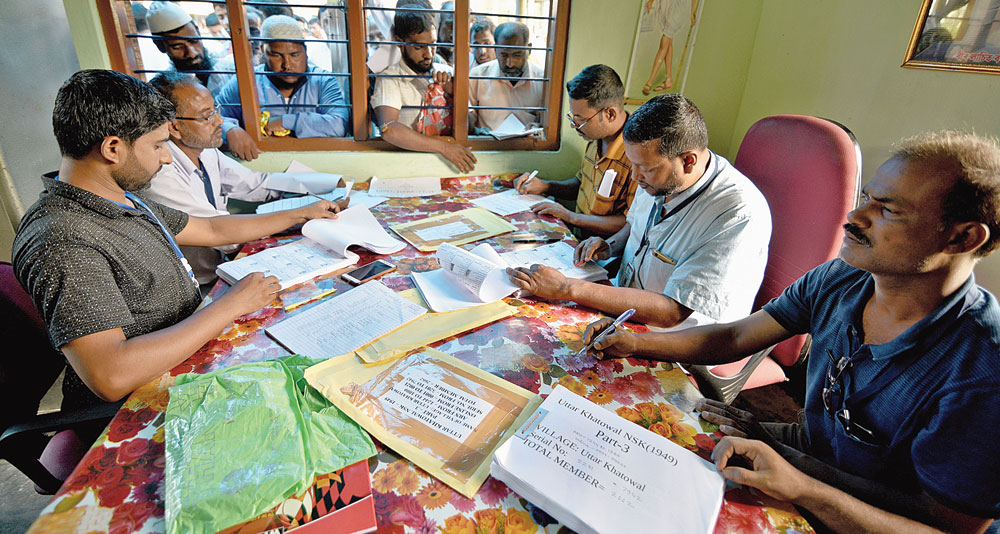 Applicants wait to check their names at an NRC seva kendra in Assam's Nagaon
File picture
---
New Delhi
|
Published 30.05.19, 07:33 PM
|
---
The Supreme Court on Thursday asked the NRC authorities not to rush through the process of identification of foreigners without a fair hearing in order to meet the July 31, 2019 deadline for publication of final NRC.
"Don't cut short the hearing. There are disturbing reports in the media. Media is always not wrong. Please ensure proper hearing," Chief Justice Ranjan Gogoi, sitting on a vacation bench with Justice Aniruddha Bose, told Assam state coordinator for National Register of Citizens (NRC) Prateek Hajela and other officials during a brief hearing.
The bench was making an oblique reference to frequent reports in the media about a large number of citizens complaining about their names missing and the latest incident of retired Kargil war veteran Mohammed Sanaullah being recently sent to a detention centre by the Assam border police after being declared a foreigner by a tribunal. The court, however, did not refer to Sanaullah or any other person by name.
Justice Gogoi said though the officials must complete the exercise of finalising the NRC by the July 31 deadline, it does not mean that principles of natural justice, like giving a fair hearing to everyone, is ignored.
"You are supposed to complete the exercise. But just because there is a timeline for finalising NRC it doesn't mean you cut short and complete the process without a fair hearing. If media reports are to be believed, it is not being done properly. You must ensure that it is done in a fair manner. Merely disposing of 70 per cent claims till date is not proper, unless it is done properly," the CJI remarked.
The court made the observations while allowing Hajela's plea for enlisting the services of retired bureaucrats of the rank of secretary or additional secretary, who have prior experience in dealing with judicial matters, to be a part of the selection panels to appoint members of additional foreigners tribunals to be constituted in the state pursuant to the top court's earlier order of May 10.
On May 8, the court had asserted that the final NRC in Assam must be completed by July 31, if necessary a day earlier, but certainly not later than the deadline fixed by it.
It had given Hajela all discretionary powers to deal with the issue and even move the top court during the summer vacation for any further directions.
The court went into summer recess from May 13 and will reopen on July 1 during which only a couple of vacation benches will function to deal with important and urgent cases.
The first draft of Assam NRC was published on the intervening night of December 31, 2017 and January 1, 2018 in accordance with the top court's direction. Names of 1.9 crore people out of the 3.29 crore applicants were incorporated then.
Assam, which had faced influx of people from Bangladesh since the early 20th century, is the only state to have an NRC.
HC case: In Assam's Boko, Sanaullah's cousin and former armyman Ajmal Haque said they will fight against the foreigners tribunal order and challenge its judgement in Gauhati High Court on Friday. Ajmal alleged that Assam police border branch had made a false investigation report against Sanaullah in 2008 when he was in the armyand on duty in Manipur.
Additional reporting by Kulendu Kalita in Boko