Drug abuse on a high in Northeast
Curbing abuse of pharmaceutical drugs remains a challenge for law enforcement agencies in Assam.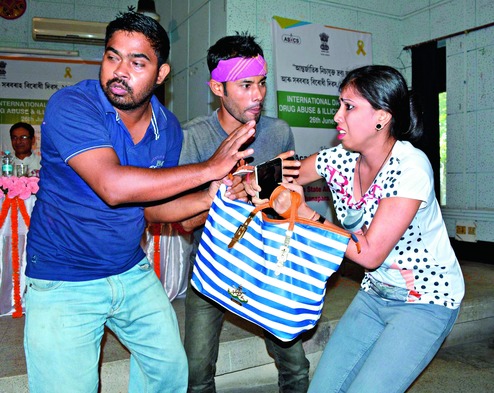 ---
Published 27.06.16, 12:00 AM
|
---
Guwahati/Kokrajhar, June 26: Curbing abuse of pharmaceutical drugs remains a challenge for law enforcement agencies in Assam.
Speaking at a function, organised by the social welfare department on International Day Against Drug Abuse and Illicit Trafficking here today, inspector of CID's narcotics cell Kumud Sarma said abuse of prescription drugs had emerged as a major concern and the department had clamped down on those involved in it.
He said the CID had seized 236 cartons containing 28,882 bottles of codeine-based cough syrup from Guwahati's Narengi locality in April, which showed the gravity of the problem. Two persons were also arrested in this regard. He said the value of the seized contraband was around Rs 22.52 lakh.
Despite efforts to tackle the problem, pharmaceutical preparations containing narcotic and psychotropic substances continue to be diverted from pharmaceutical industry. A section of drug distributors and pharmacies are also suspected to be involved.
Delivering the keynote address at today's programme in Guwahati, principal secretary of the social welfare department, Hemanta Kumar Narzary, pointed out that last year, the highest amount of illicit drugs in the country were seized in Mizoram. Over 80,000 tonnes of drugs were seized from the state, which speaks volumes about the problem in the region.
He said the Northeast was one of the worst-affected regions because of its proximity to the Golden Triangle - the trijunction of Myanmar, Thailand and Laos - which accounts for over 60 per cent of narcotics traded across the world.
Narzary said youths should be made aware of the consequences of drug abuse and trafficking should be checked.
He lauded the NGOs that have taken significant steps to combat the menace of drugs.
Assam health minister Himanta Biswa Sarma, in his message, said, "It should be our endeavour to ensure that the youths of Assam do not fall prey to these deadly drugs. All efforts should be made to make them aware of the catastrophic consequences of drug abuse."
The minister said concerted efforts should be made by the home, excise, social welfare, education and health and family welfare departments and a common action plan should to be prepared to combat this menace. He invited the youths to be a part of a massive drive to eradicate drug abuse.
The day was also observed in different parts of the Bodoland Territorial Areas District (BTAD), where use of drugs and trafficking is considered to be among the highest in the region.
In Kokrajhar town, the district administration carried out a mass awareness rally, which saw participation of people from different sections of society.
BTC deputy chief Kampa Borgoyary and BTC executive member for sports and youth welfare Dhaneswar Goyary flagged off the rally.
"Society should be strict and keep a vigilant eye on anti-social elements, including drugs and alcohol, so that the coming generations can be free from such kinds of social evils," Borgoyary said.
Use of drugs, especially among school and college students is on the rise in many parts of the region. A recent study by Unicef highlighted Assam as the country's second-highest trafficking zone and identified six districts - Udalguri, Kokrajhar, Baksa, Sonitpur, Dhemaji, Lakhimpur, and Kamrup - as the most vulnerable districts.
The first battalion of the National Disaster Response Force also organised programmes against drug abuse at various places in Assam, Tripura and Mizoram.
In Dhubri, district police observed International Day Against Drugs Abuse and Illicit Trafficking by organising a bike rally which was flagged off by Dhubri superintendent of police Diganta Barah from his office, adds our correspondent.