'Dog trap' kills 100 Himalayan griffon vultures in Assam
Call to regulate pesticide sale after suspected poisoning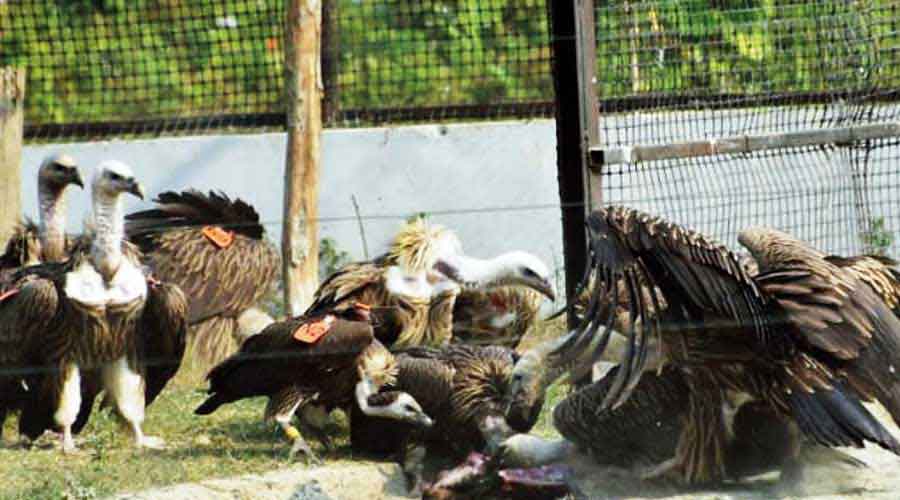 A fortnight ago, 36 vultures had died under similar circumstances in the eastern district of Dibrugarh.
File photo
---
Guwahati
|
Published 19.03.22, 02:51 AM
|
---
About 100 Himalayan griffon vultures, a "near threatened" species, have died of suspected poisoning in Assam's Kamrup district since Thursday night, prompting calls for the regulation of pesticide sale and stern action against those involved.
A fortnight ago, 36 vultures had died under similar circumstances in the eastern district of Dibrugarh.
Kamrup West divisional forest officer (DFO) Dimpi Bora told The Telegraph that forest authorities had burnt the carcasses of 98 vultures and one eagle on Thursday night in the Milanpur area of Chaygaon, about 85km from Guwahati.
Two more carcasses were found in the same area on Friday.
"We suspect the vultures died after feeding on a cow carcass laced with the pesticide Furadan, (used as a trap) to check the dog menace in the area," Bora said.
"We have also found goat bones at the site. The local dogs harm the goats and calves in the area. Unfortunately, the vultures paid the price. We managed to rescue 10 vultures and one eagle."
Bora said the post-mortem and forensic reports were awaited "but prima facie it is a case of poisoning by pesticide".
A man who had lost two goats to a dog attack a few days ago has been detained on the basis of villagers' accounts. Officials said it would be difficult to nail him.
"The deaths took place while we were preparing to hold a massive (awareness) drive next Wednesday in nearby areas following the deaths of vultures there.
But this toll (of 100) is unprecedented. It took around three hours to burn the carcasses," Bora said.
Sachin Ranade, who is in charge of the vulture breeding centre at Rani, about 40km from here, said the Himalayan griffon vulture is a migratory bird and usually reaches Assam in November-December and returns by May. It has a lifespan of 60 to 70 years.
"We lose around 100 vultures every year but this year we have already lost around 150. This is a wake-up call," Ranade, who has been working with vultures for 20 years, said.
"We need a collective effort from the local administration and the agriculture and forest departments (to check the menace)."
Bibhab Talukdar, a wildlife expert, and Ranade have appealed to the administration to take steps such as:
⚫ Checking the dog population in rural areas.
⚫ Regulating the sale of pesticides such as Furadan. They should be sold only with permission from authorities, and sales registers should be maintained.
⚫ Launching an awareness drive.
⚫ Taking stringent action against those involved in the poisoning of vultures.