Dhol beats that fade with time
Puja rejuvenates the indigenous drum and drummers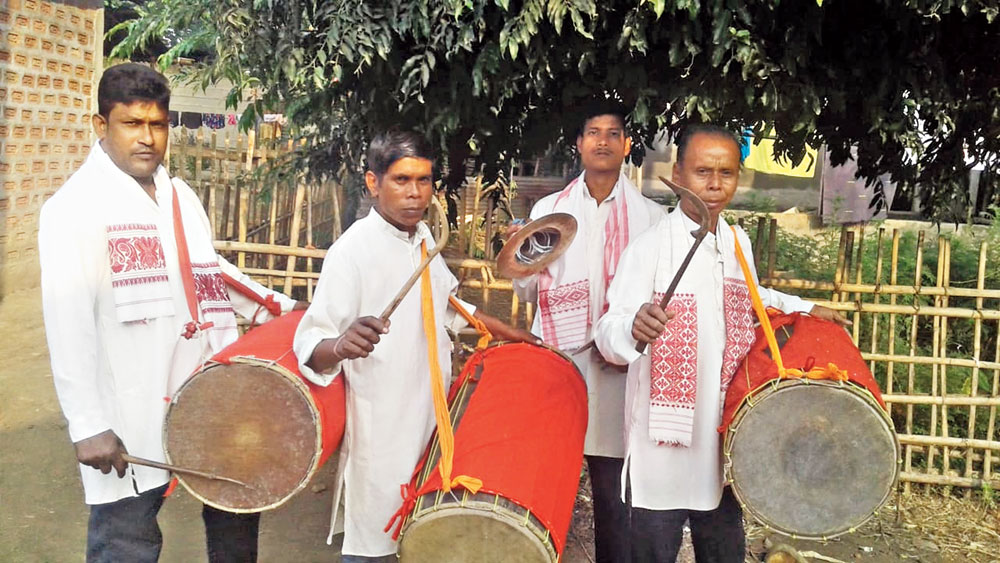 ---
Guwahati
|
Published 15.10.18, 06:23 PM
|
---
The reverberating rhythm of the Assamese dhol heralds the advent of Goddess Durga and is considered an integral part of the Pujas in Assam, just like the dhak in Bengal.
However, with changing times, the classical rhythm and beats of the dhol are slowly losing out to modern and commercialised reverberation.
The Kamrupiya dhulias or the indigenous drummers from Kamrup district have been mostly affiliated to parampara or family tradition as the art was handed down generations, from father to son.
However, with changing times, the young generation is shying away from the art as the dhol is no longer a lucrative option and, because of a change in mindset, they feel embarrassed playing in public.
Traditional Kamrupiya dhulia players, who mostly hail from Bijoynagar, Mirza, Kukurmara, Chaiygaon, Rampur and Nahira in Kamrup (rural) district and Mazkuchi and Dhontullah in south Kamrup, cater to old Puja venues in the city where spiritual adherence is paramount. The old generation drummers, compared to the younger ones, find occasional respect and honour, especially during Durga Puja.
"There are only a few dhulias left now. In the past decade, the art has seen a slowdown. The traditional sound of dhol is becoming more commercialised. It is mostly at old Puja venues that we have a platform. We play during the day and in the evening. But at newer venues, the dhol is played during specific hours beyond which non-traditional music is played," said Trilakya Goswami, a Kamrupiya dhulia who is in his fifties.
"People don't find the art as interesting as in yesteryears. It is only during the Pujas and religious festivals in villages that we get to offer our services. The young generation is embarrassed to play the dhol in public, contrary to the times when it was deemed an honour to make the public swoon to the reverberating beats of the dhol," he added.
As the dhol loses its resonance, a few dhulias are forced to work in band parties, opting for the conventional metallic wedding drum instead of the indigenous drum made from jack fruit and mango trees and cow hide side pads for better sound resonation.
Lack of economic avenues has led some dhulias to take up part-time or full-time jobs while some work as hazira or wage labourers to make ends meet.