Demand for laligur ban
Wake-up call after hooch deaths in Assam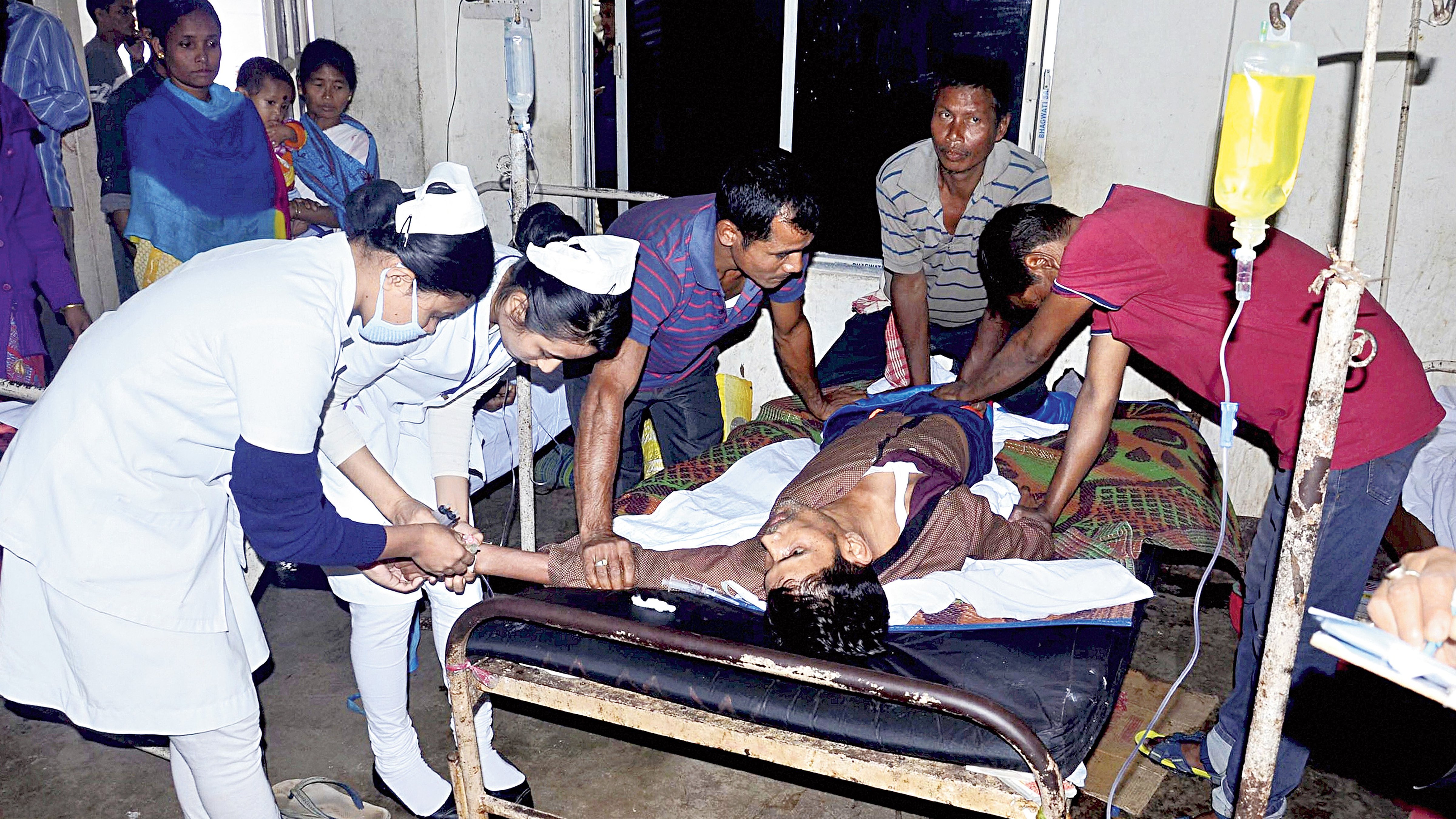 Nurses tend to a hooch tragedy survivor in Golaghat.
PTI
---
Guwahati
|
Published 02.03.19, 07:16 PM
|
---
The state excise department, facing flak for the hooch tragedy that has left over 150 dead since February 22, on Saturday sought a "ban on import, storage and sale" of laligur (a kind of molasses) used to prepare sulai (hooch).
The department also released a WhatsApp number (9435052381) for complaints against manufacture, supply and sale of sulai and other illegally distilled liquor so that the department can take action.
Another decision has been the directive to excise officials in the districts to hold monthly meetings with village councils and panchayat members and get a no-objection certificate that their area is sulai-free.
The department's decisions were made public on a day a group of women staged a sit-in at the excise commissioner's office at the Housefed complex, seeking prohibition of liquor. A section of people felt that the demand could lead to more problems as in tea gardens most people are "dependent on liquor".
People in the affected areas have alleged that some lives could have been saved had the local excise, police and administration taken timely action and regularly visited the vulnerable areas. However, there is unanimity on banning illicit liquor as the hooch deaths in Jorhat and Golaghat districts are suspected to have resulted from consumption of contaminated sulai.
Sailendra Pandey, public relations officer to excise minister Parimal Suklabaidya, said the minister had on February 27 written to chief minister Sarbananda Sonowal, requesting him to ban laligur. A few districts have already banned laligur, he added.
Doctors attending to the victims have said the laligur could get contaminated at its source. If the import, storage and sale of laligur is controlled, the production of sulai can be reduced to a large extent and tragic incidents prevented, Suklabaidya said in his letter to the chief minister.
Jorhat protest: The Assam Tea Tribes Students' Association's Jorhat unit and the Chah Mazdoor Sangha's Titabar branch, staged a rally in Jorhat town on Saturday against police for allegedly not taking action against excise officials and laligur traders.
Additional reporting from Devajit Baruah in Jorhat