Death toll up, flood hits more people in Assam
Two more died in Goalpara and Hojai in past 24 hours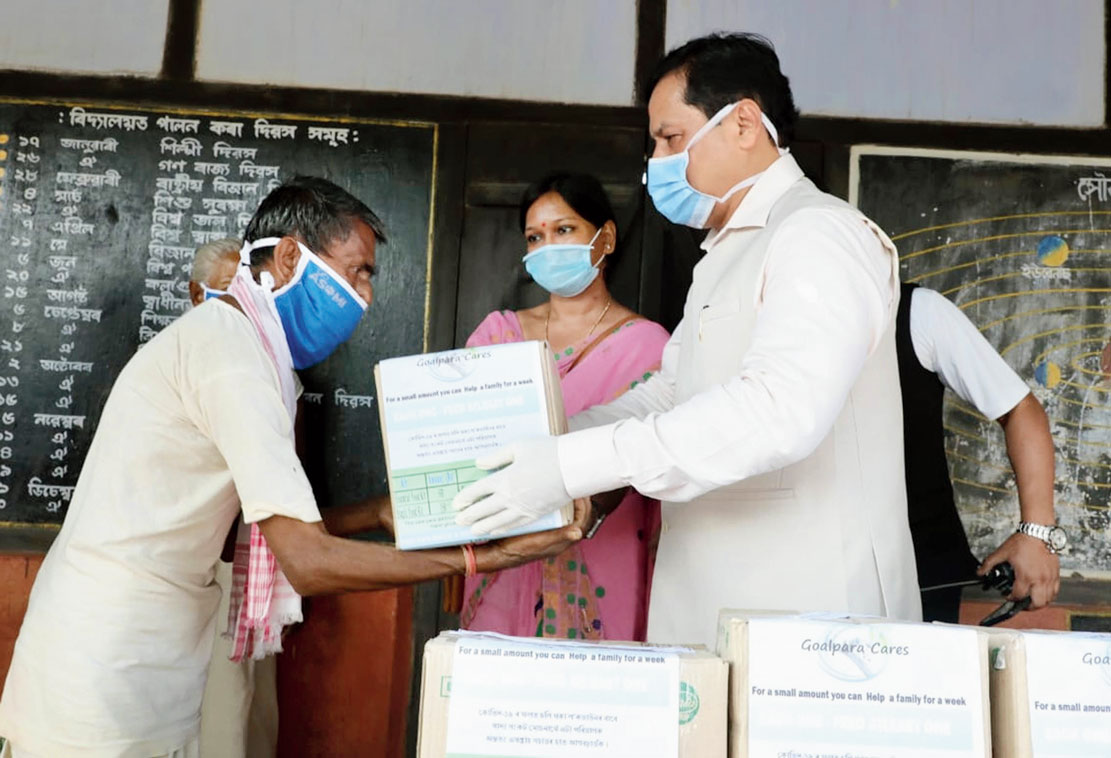 Assam chief minister Sarbananda Sonowal distributes relief materials to the flood-affected at a relief camp in Goalpara on Friday.
Picture by UB Photos
---
Guwahati
|
Published 29.05.20, 11:40 PM
|
---
Two flood-related deaths have been reported in Assam in the last 24 hours, taking the toll to five. The affected districts have come down to seven from nine but the number of people affected has gone up to over 3.81 lakh.
The fresh deaths were reported from Lakhipur in Goalpara district and Hojai district. In Hojai, the body of Ikram Hussain, 25, of Changmaji village, was recovered by the State Disaster Response Force (SDRF) on Friday morning.
Earlier, two deaths were reported on Thursday and one on Wednesday from Goalpara. Two children, Abdur Razzak, 14, of Lakhipur revenue circle and Atif Ali, two-and-a-half years, of Balijana revenue circle had died on Thursday while a youth, Henward Marak, of Lakhipur had died on Wednesday.
Chief minister Sarbananda Sonowal visited Goalpara, the district worst affected by floods, on Friday afternoon. He took stock of the extent of damage and asked officials to restore communication on a war footing by repairing bridges. He asked the deputy commissioner to oversee the process and report to him at the earliest. He also handed over cheques for Rs 4 lakh each to the next of the kin of the four who lost their lives in floods in Goalpara.
Altogether 1,96,427 people have been affected in Goalpara, of whom 16,300 are now homeless. Sonowal asked the district administration to ensure strict adherence to the social distancing norm in relief camps.
The Assam State Disaster Management Authority bulletin issued on Friday evening said 356 villages in 11 revenue circles have been affected in Goalpara (3), Nagaon (1), Dibrugarh (1), Nalbari (1), Tinsukia (1), West Karbi Anglong (1) and Hojai (3) districts. About 21,807 people are taking shelter in 190 relief camps in the state and 24,755 hectares of cropland are submerged.
In Nagaon district, the Kopili was flowing above the danger level at Kampur. Altogether 3,880 people have been evacuated by the SDRF so far.
Embankments were breached in Hojai, Barpeta and Udalguri districts. Landslides and resultant road blocks were reported from Dima Hasao.
In Hojai, the situation remained grim though flood waters were receding.
Pusphendra Barman of Kumrakata ward No. 3 said, "Everything in my house is damaged. We have not received any relief so far."
Haradhan Biswas of Matikola said, "Our five-bigha flower cultivation is totally damaged. Floods are annual but this kind of destruction we had last witnessed in 2004."
The Hojai-Kumrakata and Hojai-Raikata main roads are submerged, disrupting all communication with villages from Hojai town. "It's been three days now. No one has come to help us. We are struggling for food to feed ourselves and our livestock," a villager at Raikata Kacharigaon said.
The floods, however, saved Kanituwai Devi and her family from a herd of wild elephants who unleashed havoc in the wee hours at Bishnupur and damaged her house. No one in the house at that time because of the floods.
In Tinsukia and Dibrugarh districts, the water level has been decreasing over the past two days.
Dibrugarh-Tinsukia Zila Ban Aaru Gorakhohonia Pratirodh Sangram Manch's president Binod Kedia and press adviser Shantanu Goswami appealed to the administration to provide relief to erosion victims. Twelve families are taking shelter on the roads because of erosion by the Dibru river at Chabua Muluk Gaon, Sonowal's birthplace, in Dibrugarh district.
A statement from the chief minister's office said the government would deal with the flood situation in pursuance of the new manual which would strengthen Dispur's efforts to give relief to flood victims and fight the Covid-19 pandemic.
The new relief manual incorporates seven square metres instead of 3.5 square metres to each inmate at relief camps in adherence to the social distancing norm, sufficient toilet and sanitation facilities, daily instead of weekly monitoring of inmates, bans spitting in camps and operationalises child-friendly spaces, among others.
Additional reporting by Sofikul Ahmed in Goalpara, Nikhil Kumar Mundra in Hojai and Manoj Kumar Ojha in Doomdooma