Curfew dims Christmas cheer
Work on in churches to complete decorations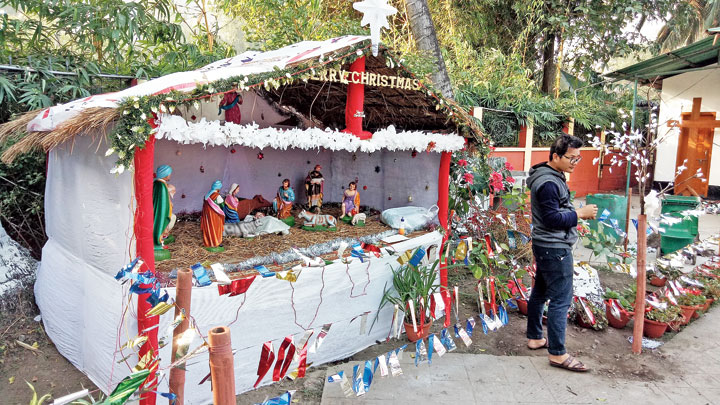 Finishing touches being given to the crib at Christ Church in Guwahati on Monday.
Picture by Ali Fauz Hassan
---
Guwahati
|
Published 23.12.19, 08:19 PM
|
---
Carol singing, which is one of the main hallmarks during the days leading up to Christmas, was affected this year because of night curfew in the city.
Churches in the city are yet to complete preparations for Christmas as work started late this year following the situation arising from the anti-Citizenship (Amendment) Act protests.
Workers are putting in extra effort in a bid to finish the decorations, including the crib, at St Joseph's Co- Cathedral Church adjacent toDon Bosco School in Panbazar, although multi- coloured lights have been installed in and around the church.
"Carol singing was affected as the youth group could not go around the houses at night because of the curfew. Still, we managed to go around after curfew was lifted. The carol group, with several dressed as Santa Claus, went around and even visited some Hindu families, singing carols and distributing sweets. Christmas Novena, starting nine days before Christmas, began on December 16 and will end on Tuesday," parish priest Father Vincent Xalxo told The Telegraph.
Fr Xalxo was apprehensive of Christmas celebrations becoming muted this year in view of the prevailing situation in the city and state, although a large number of the faithful and visitors are expected, like in earlier years.
The parish priest also said Christmas vigil mass will be conducted by Archbishop John Moolachera at 10.30pm on Tuesday while the Christmas day mass is scheduled to be conducted by Provincial ING Fr Januarius S. Sangma at 9am on Wednesday.
The road leading to the church is usually filled with makeshift shops selling anything from candles to Santa Claus dress and caps but this time the number is expected to dwindle.
The scene was similar at Christ Church in Panbazar, the oldest church in the Northeast founded in 1844, where youths were putting finishing touches to decorations.
Dr Roger Gaikwad,presbetyr of Christ Church, told The Telegraph, "This Christmas we will be praying for peace with justice. Peace will come only when there is justice. We start the advent season four Sundays before Christmas, which started from December 1. All went well till the second Sunday before Christmas, which fell on December 15. We could not organise 'A Festival of Nine lessons and Carol' on time because of the curfew and held it this Sunday. We tried to compensate it by visiting people's homes and carolling in the daytime."
"We usually have lots of visitors on Christmas and hope this time too people will come in droves to celebrate Christmas," the priest added.
Gaikwad informed that midnight service on Tuesday will start from 11pm while Christmas day service will be held at 9.30am at Christ Church and invited everyone to participate.