CPI-ML drive to uproot BJP from Assam
Left party campaign on 'misrule'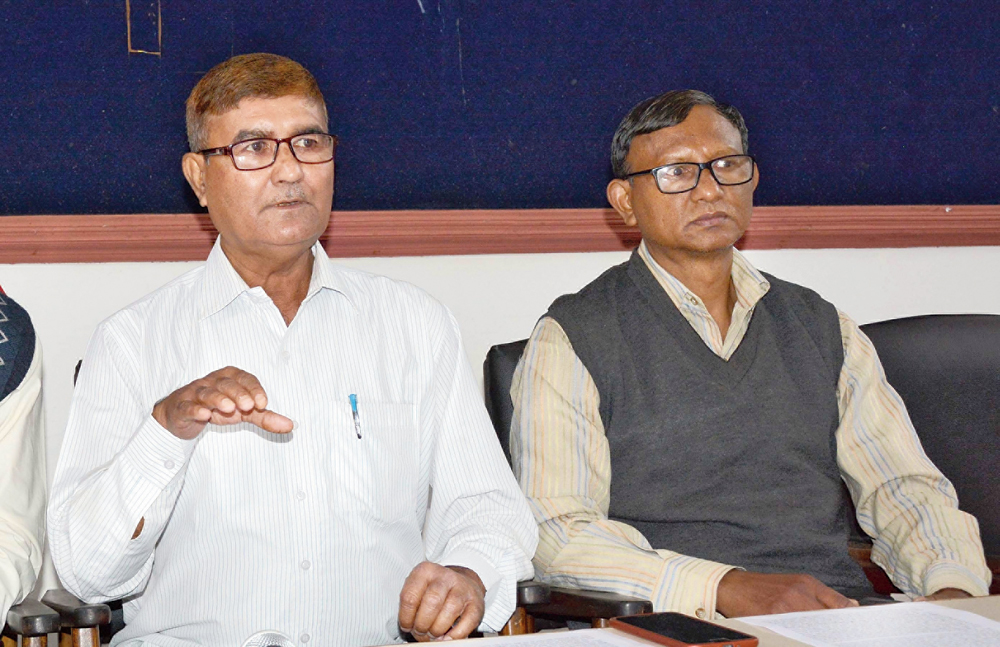 CPI-ML members at the news meet
Picture by UB Photos
---
Guwahati
|
Published 26.02.20, 06:47 PM
|
---
The CPI(M-L)'s Assam committee on Wednesday announced the launch of its BJP Hatao Abhiyan (remove BJP mission) here to "liberate" the state from the BJP's alleged misrule. The awareness mission will continue till March 25.
CPI(M-L) Assam secretary Rubul Sarma said their greater objective was to "save democracy, secure lives and livelihood of the people of Assam and demand repeal of the Citizenship Amendment Act".
He said the Left Democratic Alliance (LDA) has created a coordination committee to fight against CAA. "Excluding the Congress and the AIUDF, all other political parties, as well as ethnic organisations, will stand united on the common platform and intensify the BJP Hatao Abhiyan across the state."
The parties and ethnic organisations, including the AASU, will meet again on March 26 at the District Library here to discuss how to carry forward the anti-CAA movement and chalk out its framework, the senior Left leader said, adding that they have informally asked the Congress and other political parties to attend the conference. "Our objective is to unite the people of Assam to fight against the CAA," Sarma said.
While the Congress has been invited to attend the conference, it has been left out of the BJP Hatao Abhiyan.
Sarma alleged that the government is spending on religious institutions and festivals instead of helping the working class and poor people of the state. "We must fight to save democracy and ensure the rights and privileges of the poor people," he stressed.
He alleged that the BJP-led central government was trying to hand over rail, banking institutions and other central public sector undertakings to private parties as well as jeopardise the BSNL and that neither the Centre nor the Assam government had any intention of rescuing the small-scale industries in the state. "Unemployment is at its peak during the BJP regime," he said.
Condemning the state government for not doing justice to anti-CAA martyrs, Sarma said, "We demand the unconditional release of all anti-CAA protesters who were arrested and jailed, including KMSS leader Akhil Gogoi."
The CPI(M-L) also criticised the BJP government's efforts to add communal colour to the anti-CAA protests.