Courage, thy name is Manish
Manish, who has a rare genetic disorder, won the award for courage at The Telegraph School Awards, 2018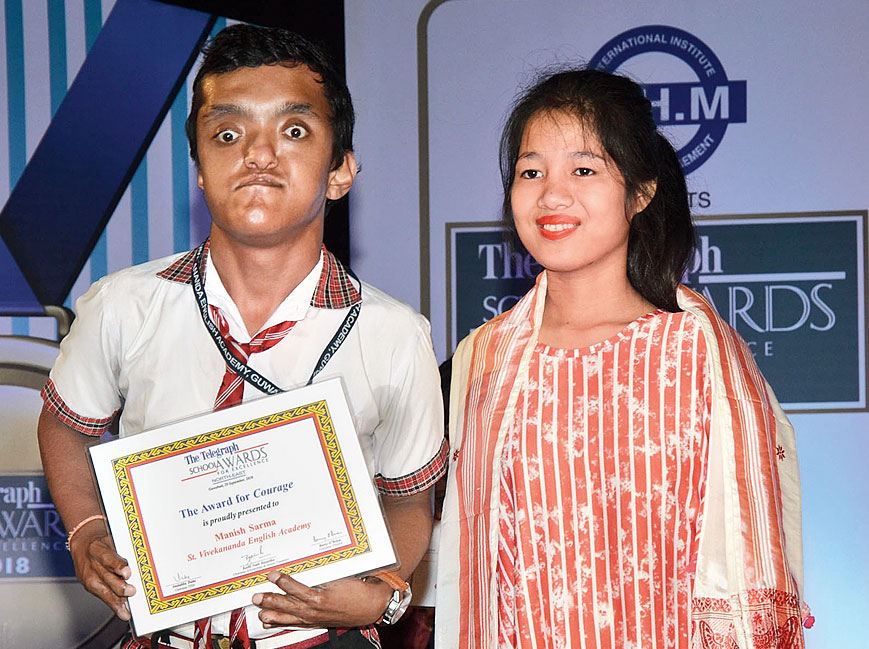 ---
|
Guwahati
|
Published 03.10.18, 07:56 PM
---
Sixteen-year-old Manish Sarma has his own way of holding pencils and organising letters into words and sentences and aspires to be an engineer.
Manish, suffers from Treacher Collins Syndrome, a rare genetic disorder which affects development of facial bones and tissues. He had to undergo a brain surgery within two months of his birth to separate enjoined fingers on his hand and feet. Since then, Manish created his own world with his specific movements that characterise him as a special one.
A class X student of St Vivekananda English Academy here, Manish won the award for courage at the IIHM Presents The Telegraph School Awards for Excellence 2018, Powered by Sister Nivedita University at ITA Pragjyoti Centre for Performing Arts on Saturday.
He received the award from Princy Gogoi, who lost her arms in an accident, and works at Nemcare Hospitals here.
The awards, administered by The Telegraph Education Foundation, was launched in 1996 in Calcutta.
"It was a proud moment for me to receive the award for courage. Holding pencils and organising words into sentences was difficult for me. My speech too was messy and people had difficulty in understanding me. I struggled when I had to use the compass for the first time. This award will encourage not only me but many others who are struggling in their own way," said Manish. His father Kabindra Sarma said, "The genetic disorder, also called Apert syndrome, gave him a malformed face, hand and feet and teeth. A year after his brain surgery, his enjoined fingers were separated allowing him to lead a normal life like others. He has his own way of holding pencils and making other movements throughout the day."
"He behaves like any other student in his class. He has not approached us with any complaint of discrimination shown by his friends or anyone till now. He is simply living a normal life like others," his father said.
He said they only restrict Manish from playing football or other outdoor games where he might get hurt. "He has a lot of mental strength but physically he is weak. Despite his weakness, he goes to school by himself and does things his own way. This encourages us," he said.