Correct NRC remote: Gogoi
Former CM's apprehensions come as SC set a July 31 deadline to publish final NRC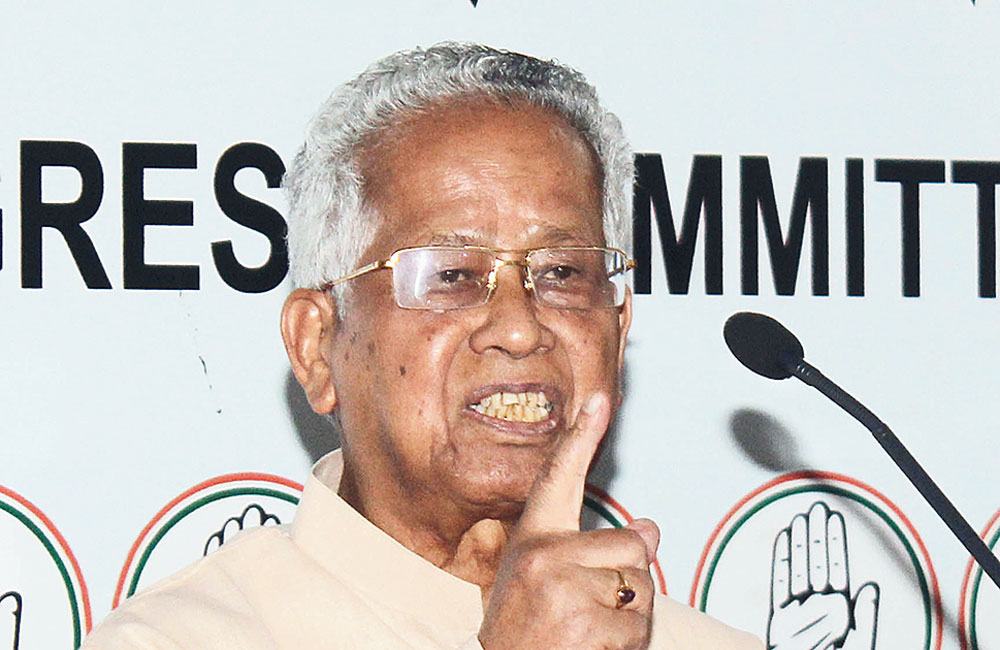 Former Assam chief minister Tarun Gogoi in Guwahati on Thursday
Picture by UB Photos
---
Guwahati
|
Published 09.05.19, 06:49 PM
|
---
Former Assam chief minister Tarun Gogoi on Thursday expressed apprehension that the NRC will not be error-free. He alleged that the BJP, which is in power at the Centre and in the state, is not interested in publishing an error-free NRC.
Gogoi's apprehension has come at a time the Supreme Court, which is monitoring the NRC update exercise, has set July 31 as the deadline to publish the final NRC.
Gogoi recalled how chief minister Sarbananda Sonowal after assuming power had displayed his enthusiasm to update the NRC by visiting its office here but has allegedly become silent as the process nears its end.
BJP spokesperson Mominul Awal said the state government is providing all necessary infrastructure for the NRC update process. "Under supervision of the Supreme Court, the people are hopeful of getting an error-free NRC," he said.
Gogoi said the BJP has vowed to bring the Citizenship (Amendment) Bill 2019 at a time the NRC is being updated and described it as "double standards" of the Centre.
Gogoi wondered how 40 lakh people were left out of the complete draft NRC published in July last year. "Over 30 lakh of them are Indian," he added. Asked how he knew they were Indian, Gogoi said, "Otherwise how are their names in the voter list?"
Gogoi had earlier demanded that names of all people who were in the voter list till 2016 be included in the NRC.
The All Assam Students' Union (AASU), a signatory to the Assam Accord, claims that names of a large number of illegal foreigners have featured in the voter list.
Gogoi slammed Prime Minister Narendra Modi for referring to former Prime Minister Rajiv Gandhi as "bhrastachari No 1." He said: "When defeat is imminent, one speaks nonsense. This is nothing but a sign of frustration and desperation.
"Modi does not have one- fourth of Rajiv Gandhi's contribution to the country," Gogoi said. He claimed the BJP would be defeated in the ongoing Lok Sabha election. "If the BJP does not manipulate EVMs, it will not win the election," he said.
"Even (BJP national general secretary) Ram Madhav hinted that the BJP is losing," Gogoi added.