Slum restricts outsider entry
Groups are providing cooked food, dry rations and medicines too so that nobody comes out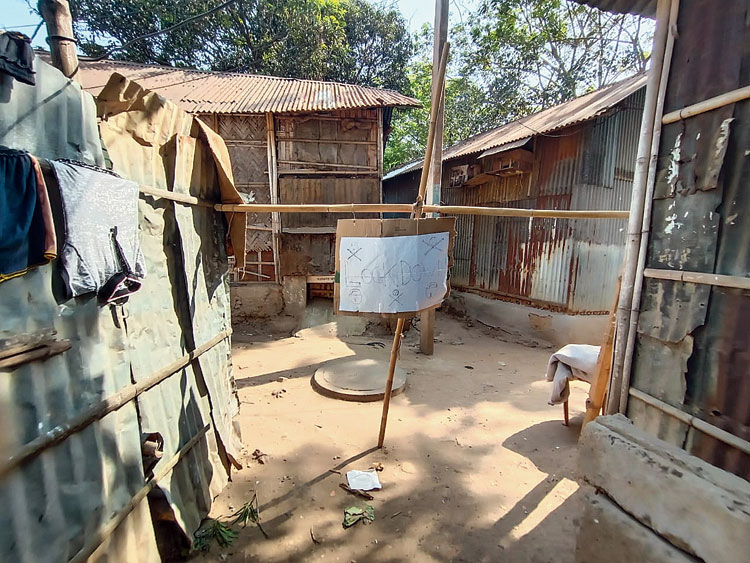 ---
Agartala
|
Published 07.04.20, 06:53 PM
|
---
A slum in West district, with a population of 2,000, has cordoned off all sides and restricted entry of any outsiders without wearing a mask or gamcha.
Radhanagar Purba Basti is more than 50 years old where more than 650 families live. As part of a 2013 mission to make Tripura slum-free, some parts of the slum were re-constructed and developed where around 80 families were rehabilitated. But the majority still live in small thatched huts.
Pradip Adhikari, a 68-year-old rickshaw-puller from this slum, said his family has received many support from local social organisations and have also received soaps, rice, pulses, cooking oil, soybean and other daily essential commodities from different donors since the past few days.
"We wash our hands thrice a day with soap. Since we don't have that much money to buy masks, we are using gamcha and our chief minister has also suggested using it as we can cover our entire face easily to protect ourselves from coronavirus. We stay inside and don't go out unless there is any emergency. The government has also given us free rice through ration shops," he said.
Adhikari said they have barred entry into the slum and strictly asked everyone to stay put inside their huts and not to go out unless absolutely necessary, like a medical emergency
Sangram Das, an 18-year-old school dropout said, they have put up a "No Entry" signboard in front of the slum and restricted the movement of outsiders.
"Our life is hard but our elders and we all have come together against this deadly virus. We are not allowing anyone inside our slum without wearing a mask and without washing their hands. We are also not going out from home unless necessary. We are receiving cooked food from the government and from many social organisations and also we kept stock of dry rations. An MLA gave us biscuits, soaps, and ration yesterday too. So, we are doing okay," he said.
The secretary of Radhamadhab Unnayan Sangha, Bhutan Lashkar, said people live in tiny 8x8 feet huts and social distancing is not possible as well. However, they are maintaining it and groups are providing cooked food, dry rations and medicines too so that nobody comes out.
Agartala Municipal Corporation (AMC) commissioner Sailesh Kumar Yadav said they will soon distribute cotton masks in the slum areas and the self-help groups are making these masks.