Concern over Assam govt's transport full-occupancy nod
The decision is being seen as a move by Dispur to 'shift the responsibility of staying alert and safe' to the public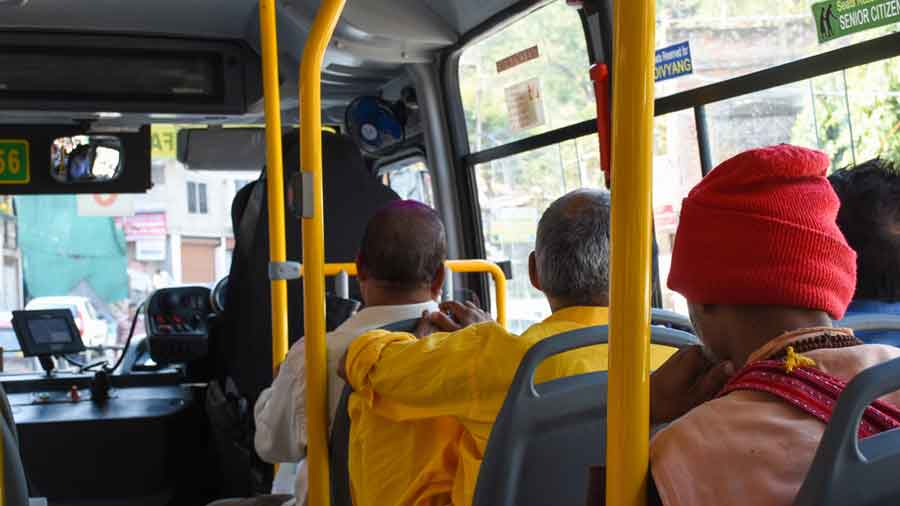 ---
|
Guwahati
|
Published 13.10.20, 01:39 AM
---
The Assam government's decision to allow public transporters to operate at 100 per cent capacity from Friday has not only triggered concern but also seems to be going against its own campaign to maintain social distancing norms amid the pandemic.
Senior advocate Nilay Dutta tweeted his concern on Friday night: "The GoA (government of Assam) has officially abandoned social distancing norms of 'Do Gaz ki Duri' in public transport in Gauhati city. Is @PMOIndia aware of this decision of GoA to allow 100 per cent capacity in city bus transport. Does @himantabiswa and the Health Department agree to this move."
Dutta added, "...Transport Department decision to allow 100% capacity in public transport is fraught with dangerous possibilities. All good work may be set at naught with this crucial decision."
There are many who share Dutta's concern as coronavirus cases continue to rise in the state. Altogether 192,416 people have tested positive for Covid-19 in Assam since March. Till Friday, there were 29,710 active cases and 802 deaths. Most here feel a significant section of the population were "anyway not adhering" to the preventive measures to check the spread but the government's decision will make matters worse.
A response to Dutta's tweet reflected the concern, "If you are connected with the citizens… you would have found that almost all buses are running with more than 100 percent capacity."
Like Dutta, they too referred to Prime Minister Narendra Modi's appeal to the masses in his speeches and tweets to adhere to social distancing by maintaining do gaj ki doori (a distance of two yards), wearing masks and practising personal hygiene to defeat the coronavirus. Modi had made the pitch in his Mann Ki Baat talk on August 30 and during the launch of the nationwide mass awareness drive against coronavirus on Thursday.
A recent Modi tweet said, "Let us #Unite2FightCorona! Let us always remember: Wear a mask. Wash hands. Follow social distancing. Practice 'Do Gaj Ki Doori'. Together, we will succeed. Together, we will win against Covid-19."
He had earlier praised villagefolk for practising do gaj ki doori, which most believe is an important step in the fight against the pandemic. The state also fears that there could a major spike after the Durga Puja festivities.
The decision to allow 100 per cent occupancy is also being seen as a move by Dispur to "shift the responsibility of staying alert and safe" to the public following the rising demand to restore economic activities affected because of the pandemic since March.
A senior member of the Indian Medical Association told The Telegraph that the decision to open up businesses was along expected lines.
"The government is gradually shifting the responsibility of staying alert and safe to the public. With businesses opening up, the onus of staying safe is on the public. One has to be extra careful till we get a vaccine and seek medical help if they display any symptoms. If things go wrong, the government will again revert to the lockdown," he said.
A National Health Mission official said the government is opening up businesses but it has "not" said one has to travel by public transport or enjoy a film in a cinema hall.
"That is a personal choice but the government has to unlock businesses to keep the economy running. We have to live with Covid by maintaining all safety protocols. We need to decide where to go and how to go and what to avoid. Today or tomorrow, we will have to open up. The public has to understand that and behave accordingly, " he said.
The government decision was triggered by the All Assam Motor Transport Association indefinite chakka bandh from October 5, seeking a 100 per cent fare hike and lowering of road tax by 50 per cent if they have to run with 50 per cent seat capacity, among other demands.
They government did not agree to the hike on account of approaching elections but allowed 100 per cent seat occupancy by adhering to other safety protocols like wearing masks and ensuring proper sanitisation. Assam goes to polls in April-May next year.
Association member Pradip Das said they lifted the strike once they were allowed to run at full capacity. "We are adhering to Covid protocols and are also keeping a watch on our drivers so they don't pick more passengers than the seating capacity," Das said.