Assam CM exhorts officials to 'be humane'
Sarbananda Sonowal directs officials to ensure that migrant returnees are not stigmatised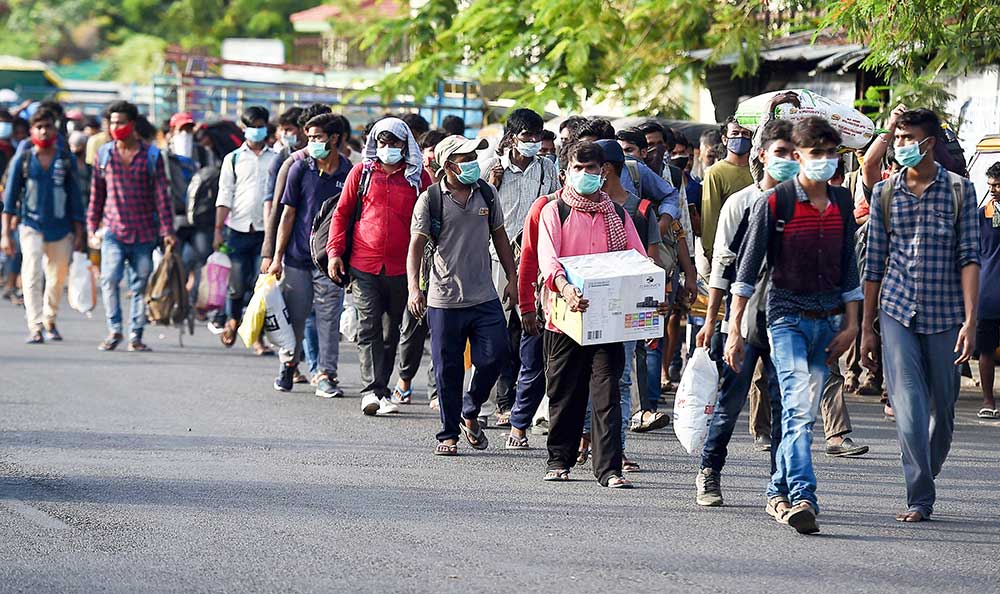 Migrants from Assam, arrive to board a train at Central Railway station during the ongoing nationwide Covid-19 lockdown, in Chennai, Friday, May 15, 2020.
(PTI)
---
Guwahati
|
Published 16.05.20, 07:56 PM
|
---
Assam chief minister Sarbananda Sonowal on Saturday exhorted officials to invoke the spirit of humanity, reflected in music maestro Bhupen Hazarika's iconic song, Manuhe manuhor babe, while dealing with the thousands of stranded people returning home because of the coronavirus pandemic, which has been raging in the states most are coming from, and ensure they are not stigmatised.
The song, released in 1964, loosely translated, means: "If a human being does not think about fellow humans, then who will?
On Saturday, while reviewing the Covid-19 situation with officials whom he referred to as "Team Assam", Sonowal directed deputy commissioners, superintendents of police and health department officials to work closely with panchayat presidents, gaonburhas and village defence parties, in the spirit of Manuhe manuhor babe, and ensure that returnees are not stigmatised.
He said, "The state government stands with everyone from Assam no matter wherever they live on the planet. We want to ensure that they are not alone."
Sonowal also discussed the road map to tackle the pandemic with the incoming of thousands of people. Everyday hundreds of stranded people have been returning via road and railways, posing a challenge in tackling the Covid-19 situation. Assam's Covid-19 cases rose to 91 till Saturday evening.
Sonowal's appeal came in the wake of criticism by the Opposition Congress that Dispur was allegedly not doing enough for the stranded, most of whom are stuck in Chennai, Bangalore and Mumbai, among others, some of the worst-affected cities. Though figures of the stranded are not yet available, the government had received over six lakh calls on its helplines.
According to the Northeast Frontier Railways (NFR), around 8,700 passengers, mainly students, patients, and migrant labourers and their family members, have returned to Assam, Manipur, Mizoram and Tripura in seven Shramik Special trains so far.
Sonowal also asked the officials to work closely with ministers in-charge, MPs and legislators for smooth coordination.
"The officials, with the help of senior and other respected citizens of localities, should create a conducive environment for those returning to their native place and ask them to remain in home quarantine. Since the fight against Covid-19 is becoming more challenging, it's time to act as Team Assam and the spirit of humanity," Sonowal said.
He also advocated engaging National Cadet Corps and National Service Scheme volunteers to enforce social distancing and lockdown rules, especially in banks where beneficiaries of various schemes were making a beeline.
He also sought participation from private hospitals and clinics in providing medical facilities to the common people.
Besides, Sonowal also directed the officials to engage personnel from other departments, who are not on active Covid-19 duty, in construction of embankments and flood protection-related work.
Already, the state government has asked the Centre to extend the lockdown for at least two more weeks.