Xatras give Rongali Bihu a miss this year in Assam
Several xatras of Assam had also postponed their 500-year-old tradition of celebrating Bohag Bihu this time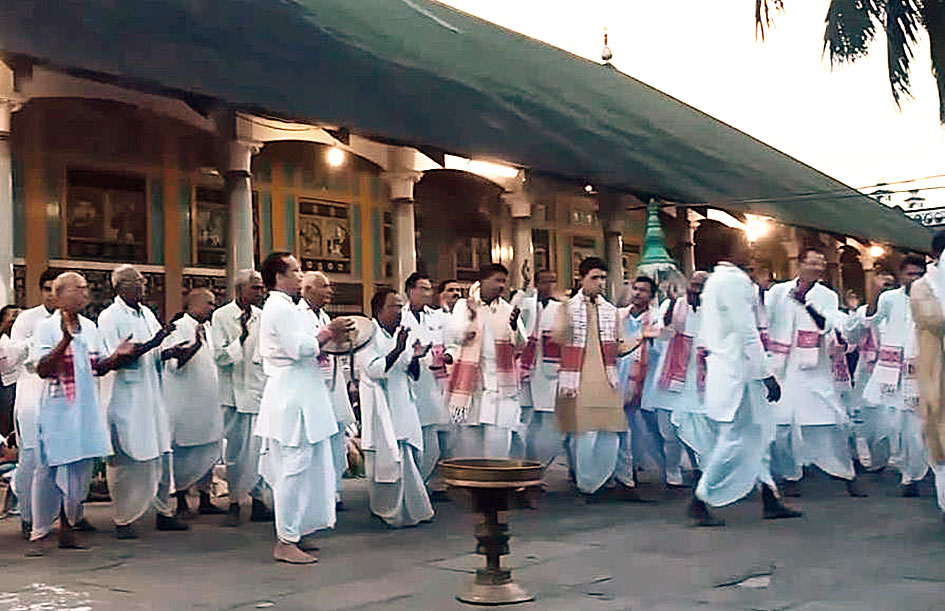 Thiya naam at Barpeta Xatra
Telegraph picture
---
Nalbari
|
Published 12.04.20, 06:36 PM
|
---
Many xatras in Assam, including leading ones such as the Barpeta Xatra and Uttar Kamalabari Xatra in Barpeta and Majuli districts, will not observe Rongali Bihu because of the ongoing nationwide lockdown to check the spread of novel coronavirus.
Though Rongali Bihu, a leading festival in Assam, marking the beginning of the Assamese new year, is at the doorstep.
However, there are no scenes of preparation to celebrate the festival this time.
The people of Assam are busy maintaining social distancing because of the Covid-19 virus panic.
Several xatras of Assam had also postponed their 500-year-old tradition of celebrating Bohag Bihu this time.
The xatradhikar of the Uttar Kamalabari Xatra in Majuli district, Janardan Dev Goswami, told The Telegraph that the xatra would not celebrated Rongali Bihu this time.
"Because of the coronavirus pandemic, we have postponed the celebration of the three-day Rongali Bihu festival this year," the xatradhikar said.
The burha xatradhikar of Barpeta Xatra, Basistha Dev Sharma, said they had decided not to celebrate Rongali Bihu this year.
"Not only the Rongali Bihu, the thiya naam tradition which is being celebrated here as the end of Rongali Bihu on the very seventh day of the Assamese new year, is also postponed," he added.
Sources said the decision of postponing the thiya naam was taken after a meeting. "We have decided this because of the ongoing lockdown," Dev Sharma said.
Assamese New Year has been celebrated in the Barpeta Xatra with a weeklong programme, locally known as Boihagor Domhi.
It starts on goru domhi and ends with the thiya naam programme.
The burha satriya of the Barpeta Xatra said if they celebrate Rongali Bihu, there are lots of chances of breaking social-distancing norms. "
Several other xatras of the state, including the Natun Kamalabari Xatra, Bhogpur Xatra, Auniati Xatra and Dakshin Paat Xatra in Majuli district have also cancelled Rongali Bihu rituals this year.