Passengers face ticket booking woes in Assam
On Monday when the new phase of the lockdown came into force, the Assam State Transport Corporation deployed almost 300 city buses to ferry commuters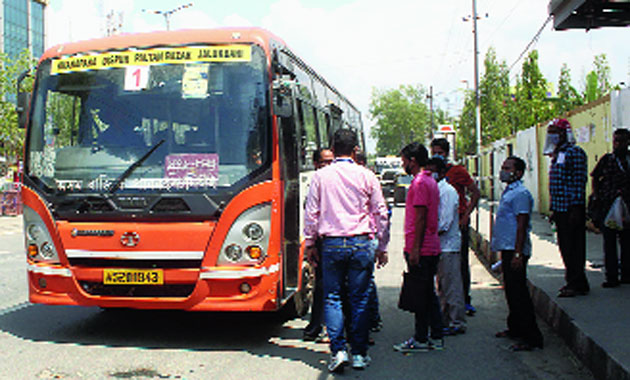 People board a bus in Guwahati on Monday.
Picture by UB Photos
---
Guwahati
|
Published 04.05.20, 09:48 PM
|
---
The transport department on Monday deployed several buses across the state but the commuters are facing issues with the digital ticket booking system.

Many commuters claimed that the new system will be a very difficult one for them as people are yet to become tech-friendly.
The new system requires people to book tickets for city buses here through the Challo app.
The app requires the tickets to be booked for a month and the minimum payment is Rs 450 but several have raised concerns regarding this.
Rana Choudhury, a resident of Zoo Road, said, "I appreciate that the government has deployed the bus for the commuters but at the same time we are concerned about the fare. The app requires us to make an advance payment for a month but this cannot be a feasible thing as I am willing to use the bus only once a week and when I have any sort of work."
He added that if he paid the money for the entire month he will lose.
Rohan Das, a resident of Downtown, said he was trying to travel back to his parents' home in Silchar but he is facing difficulties as he only has cash in hand and not enough money in his bank account.
"To book inter-district bus tickets, we are required to make advance payments. I somehow managed to book the tickets by getting some money from a friend online but what will happen to the people who have no idea how to use these apps?" he asked.
On Monday when the new phase of the lockdown came into force, the Assam State Transport Corporation (ASTC) deployed almost 300 city buses to ferry commuters.
The ticketing system was made online and offline ticketing was not permitted.
Passengers were asked to board the buses with masks and gloves. Standing travel has been termed as an offence.
Only 50 per cent seats have been allowed for travel and people travelling through the buses have been asked not to spit anywhere or else it might lead to legal action.
It is not allowed to carry additional passengers who do not have a digital ticket or have not booked tickets in advance.
The buses are also not allowed to carry any live animal or any such products.